It was 'Game' On at the Great Yorkshire Show
Yorkshire goes a little crazy at the Great Yorkshire Show and the great chefs of Yorkshire are no different – especially when it comes to cooking in the Game Cookery Marquee. Here's how the three days unravelled….
DAY 1
The line up of chefs started with Matthew Benson-Smith and Arron Pratt, from Cannon Hall Farm Shop. Whilst Arron was doing his cookery demonstration he was being judged as this was his final stage of assessment. Matthew is Arron's tutor and also teaches apprentices. Thankfully he passed with flying colours – well done!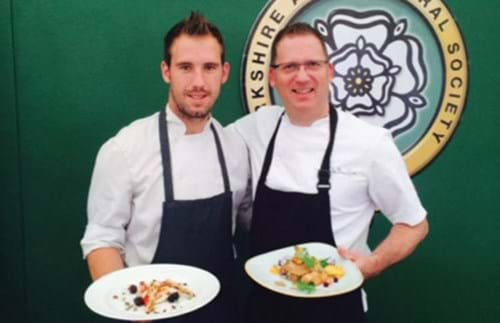 Matthew and Arron Roasted Quail on the bone and Home made Cheesecake for dessert.
Simon Crannage was next up from Swinton Park. He is a regular at the Yorkshire Show and cooked up Estate Venison with an array of Heritage Carrots.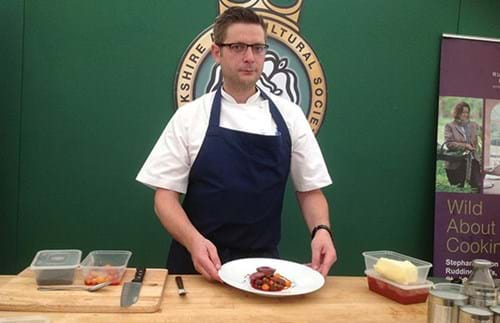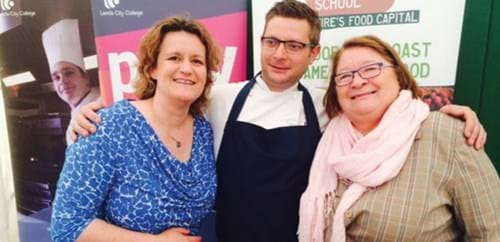 Simon Crannage is the brave one here surrounded by a brace of game birds Steph Moon (Me!) and Rosemary Shrager.
Nigel Sampson from Holme Farm Venison and Rosemary Shrager came on next to make Raised Venison Game Pie – a stunning yet simple dish packed with flavour.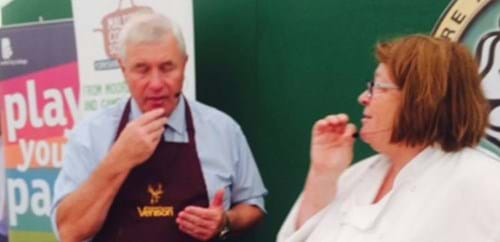 In between all the cooking Adam Smith, Head Chef at Devonshire Arms and James Mackenzie, Chef owner of Pipe and Glass Inn Beverley, shared a laugh – something that there is plenty of in the Game Cookery Theatre.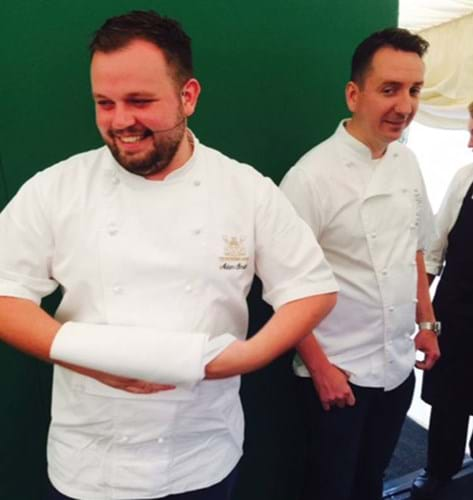 Adam Smith presented roasted venison which was on the bone to add extra flavour, served with lashings of rich jus and traditional game 'chips' which added a lovely crunch.
Next up was James Mackenzie. It had only been a week since I saw him at The Pipe and Glass for his cracking 40th birthday party (James you don't look 40 Chef!).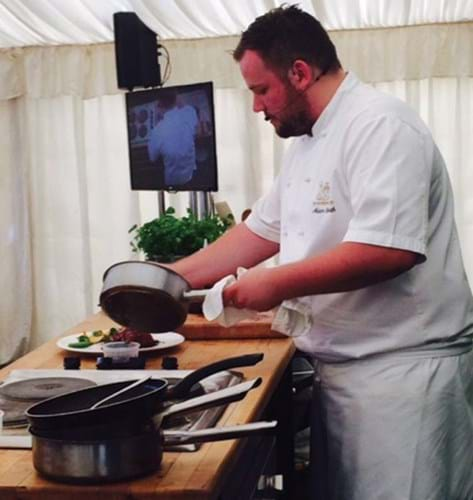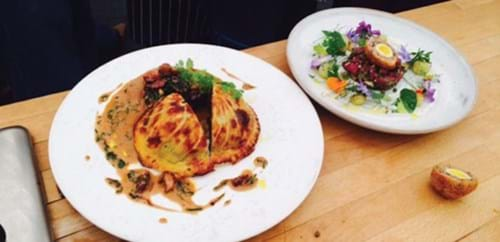 These two stunning dishes show off James' Michelin starred food perfectly. My personal favourite was the Venison Tartar with Scotch Quail Egg – really superb.
Andrew Pern is a household name on the Yorkshire food scene and his demonstration dishes looked excellent. Sadly in the madness I never got a photo of Andrew but you know we love you Chef!
The Star Inn cooked up a Summer Game "Pot au Feu" served with fresh vegetables and edible flowers from their Kitchen Garden. The pungent aroma of freshly shaved truffle really filled the marquee.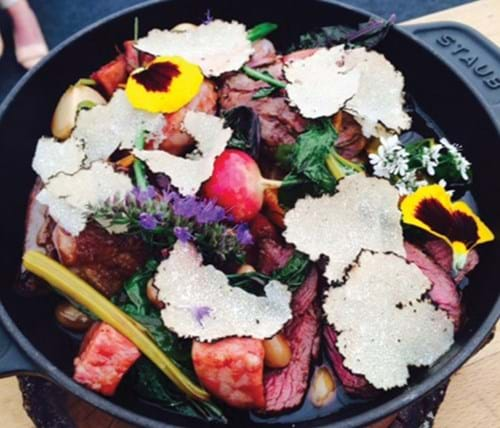 Johnny Purnell and Chris Oakden, chefs from Coniston Hotel, delivered a fun packed Ready Steady Cook Show. The marquee was filled to the rafters to watch these popular demonstrations.
And the day wasn't over….with a quick clean down, I headed off to be filmed on the evening show of Look North with presenters Harry Gration, Amy Garcia and Paul Hudson. Whilst they were telling the story of how the price of lamb has dramatically decreased for the farmer due to consumers not eating as much, I had the challenge of barbecuing lamb for the presenters to try. I was nervous about the meat being cooked to perfection but luckily we were spot on – thanks to The Big Green Egg (my barbecue!). I used three different marinades which gave the lamb extra flavour.
Recipes
Marinade One: Mix one tablespoon of finely chopped mint with one small pot of natural yoghurt. Add salt and cracked black pepper to season.
Marinade Two: Mix one finely chopped red chilli (seeds removed) with one tablespoon of smoked paprika and one tablespoon of olive oil.
Marinade Three: Olive oil, salt and pepper.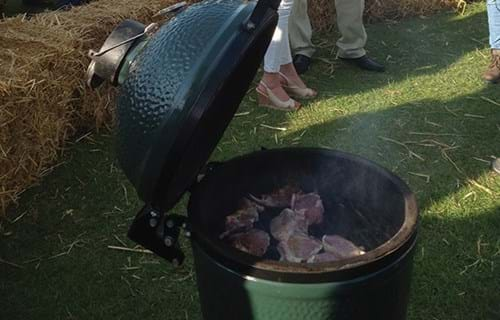 Barbecue action! The lamb is cooking as the programme goes live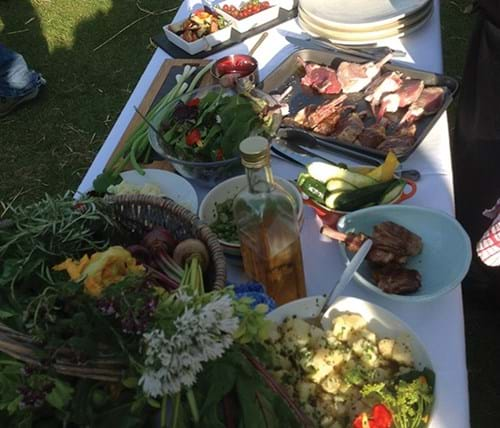 Our Rudding Park Kitchen Garden salad and edible flowers were well received by the public.
Star stuck …I have a photo with Amy and Harry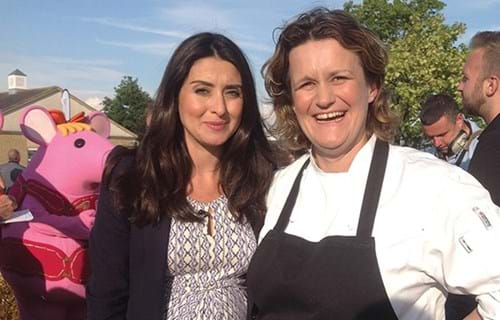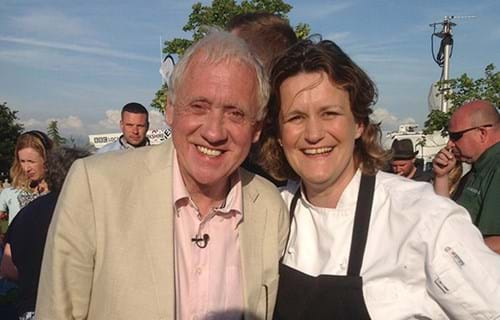 Then, the audience got stuck into my lamb cutlets.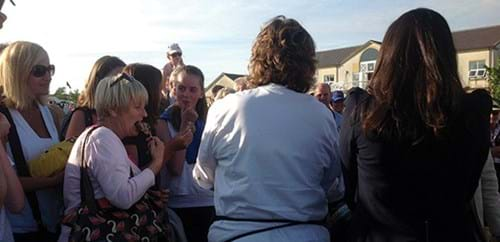 This was a great experience and made up for missing meeting the royal party as they walked past the Country Pursuits area. In my view Harry, Paul and Amy are in their own way Yorkshire royalty! They were great to work with, as were Danni and the make- up artist who gave me some top tips and worked wonders with my frazzled face before going live on Look North.
DAY 2
Before the day really got started I had chance to meet up with friends in the Cheese Cookery Theatre and have a look at Caroline Bell's vintage cheese van.

Pictured from left to right: Gilly Robinson, Lee Rushforthm, Zach Abbot, Caroline Bell and Stephanie Moon.
Lee Rushforth came up with two thoughtful and daring dishes. He was the first chef to cook Leveret Hare – good for you Chef!
Rosemary Shrager and Paul Nicholson the Head Butcher from Fodder made a Venison Game Pie. Fodder also sponsored the bag of ingredients for the Ready Steady Cook Show.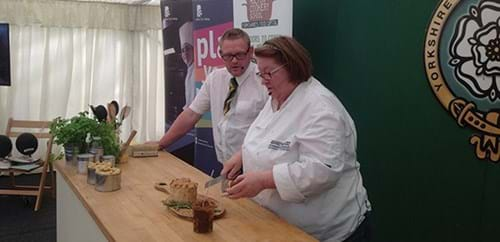 Next up was Jason Moore, Head Chef of Guisborough Hall, who also appeared in Ready Steady Cook with Ben Turner from Farifax Arms. They cooked up some great dishes and presented a comical demonstration.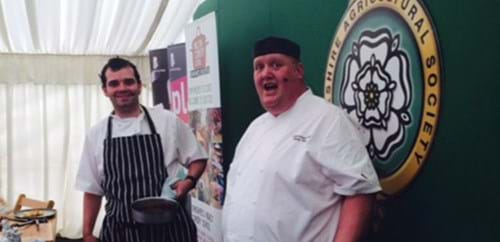 Jack Baker and Richard Smith (known as Smithy) also participated with Richard's son also joining in and donning the chefs jacket. Jack and Smithy are very experienced chefs and run a new restaurant 'Smith and Baker' near Sheffield.
PICTURE OF STEPH???
I was next up, cooking two dishes; Potted Rabbit, Broad Bean with Rudding Park Kitchen Garden Salad and Lemon Verbena Dressing, followed by Quail, Kohlrabi Remoulade, Nasturtium, Gooseberries with Elderflower Vinaigrette.
Anton Scoones and Daniel Culver from the Food Academy at Leeds City College Printworks Campus made Quail served with Barley Risotto, Maple Syrup, Bee Pollen and Blackberries with Candied Walnuts.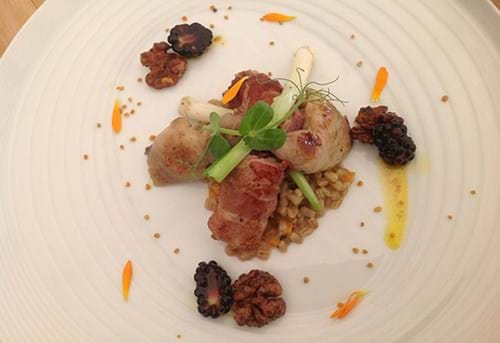 DAY 3
The day began with Sue Nelson from the Yorkshire Food Finder cooking up Tea Smoked Duck and a mini Duck Pie with hot water pastry.
Adam Tomlinson and Anna Wallace from BBC Radio York came along to discuss the dish on their show – it was a real winner Sue, well done you!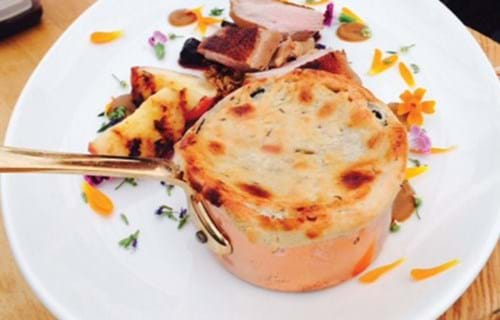 Heather Copley brought her son Jacob along to get a taste of demonstrating.
Jacob was a natural and enjoyed cooking up a storm!
Jenny Culver from Bettys Cookery School showed the audience how to impress their guests easily by making a simple dish look impressive.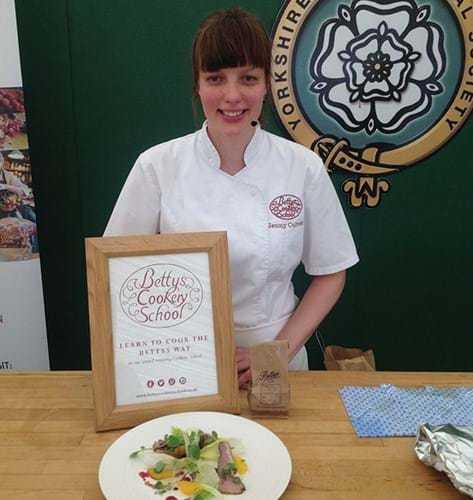 Tea Smoked Duck dish served with a Fennel and Orange Salad.
Rosemary Shrager and Ian Richardson from Blacker Hall cooked up Venison Game Pie. Ian was nervous before the demo but he blossomed into the role and had a cracking time with Rosemary.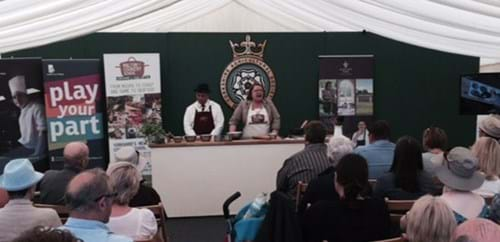 Ian Rae and David Spencer from the Clivemount Hotel in Runswick Bay demonstrated a Brill and Guinea Fowl dish, which looked fantastic.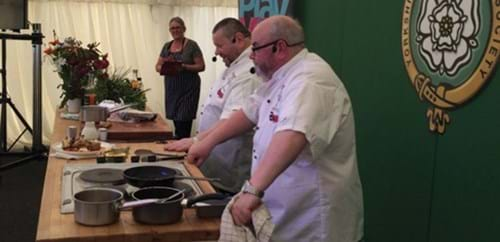 Harrison Barraclough from Black Lion at Thirsk and Gareth Bottomley from Charles Batyh Hirst Inn did a great job but sadly I did not get any photos.
Kevin Hughes, tutor from Leeds City College and Olly his young apprentice chef did a sterling job with their game dish and the last session of the day was Davina Lovegreen who made stunning Schnitzels and told children how accessible game really is.
Then who popped by but….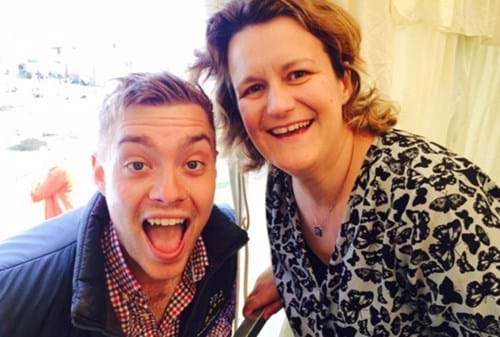 Will Smith, our local radio Stray FM DJ.
But the last photo to leave you with…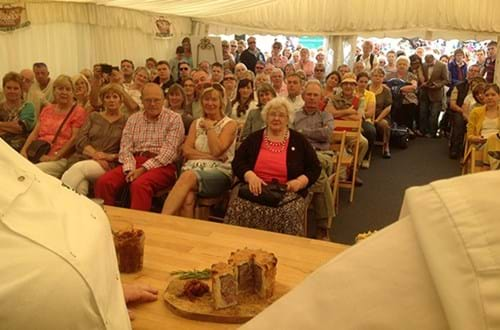 Look how many people turned out to watch Rosemary Sharger and Simon Whitehead demonstrating – I think this says it all!
Finally, I would like to thank Angel Vaux from Country Pursuits and Michelle Mackie from the Great Yorkshire Show team.
No grousing about…
Hopefully we will be back next year for more game fun!
Steph x