This year's Harrogate Autumn Flower Show was amazing and we were thrilled at Rudding Park as Adrian Reeve our Kitchen Gardener and Tom Clayton, Grounds Manager entered the show for the first time and won first prize in a hotly contested Rhubarb Category
No wonder our chefs love this Yorkshire food hero…look at these beauties and check out the colour on the stems!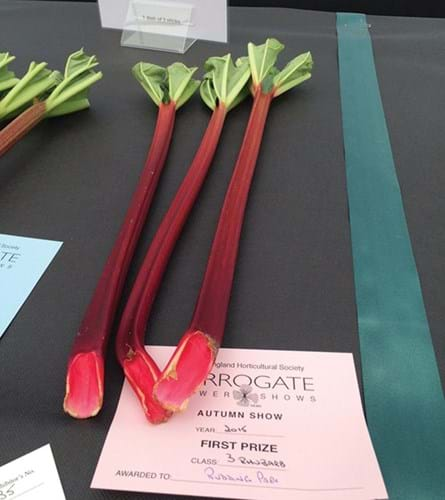 Adrian and Tom have had an amazing month as Rudding Park also won a Gold Award for the Yorkshire in Bloom Competition – well done lads, a double whammy!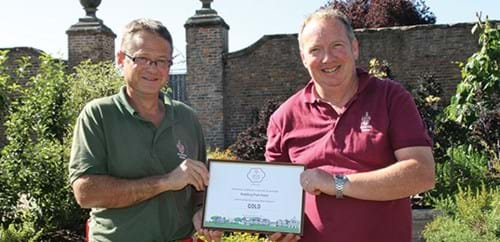 Adrian and Tom in the Kitchen Garden holding their Gold Award from Yorkshire in Bloom.
When I heard Rudding Park received a 'Gold' Award, it made me feel very proud. Rudding Park Kitchen Garden is a truly magical place and if you've not seen it you really should combine it with lunch at Clocktower and take the opportunity to look around the Kitchen Garden.
Fresh produce was the ethos behind the Clocktower Chefs demonstration at the Flower Show Cookery Theatre. Callum Bowmer is a seasoned professional at cookery demonstrations and Ronnie Simpson, Commis Chef at Clocktower joined him for the experience. It was great for Ronnie to be able to practice for the final stage of York Young Chef of the Year which involves performing a cookery demonstration to a large audience at the York Food Festival.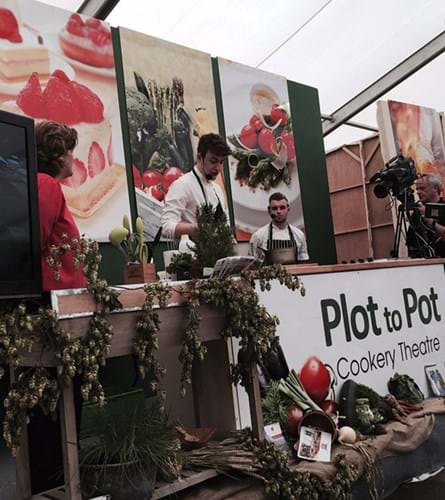 The boys in action! Callum makes the filling for the cheesecake whilst Ronnie makes the base.
Ronnie took to the stage like a duck to water and it didn't take long for the boys to do their demo of a Harrogate Blue Cheesecake with Kitchen Garden herbs and a lovely light dressing.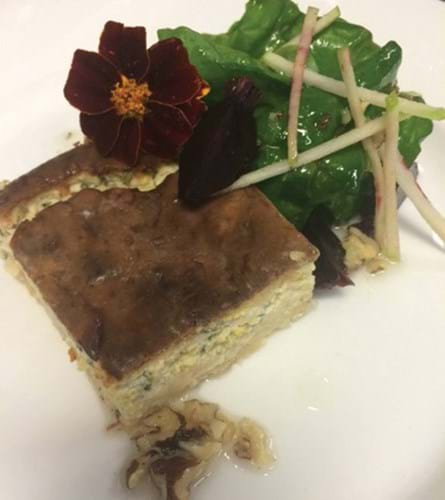 Callum and Ronnie's Cheesecake with walnut truffle dressing and baked beets.
Seeing the new talent emerging at Rudding Park is fantastic and these two boys are both ones to watch!
Before starting work in the Cookery Theatre, I had five minutes to have a look round. A quick visit to the giant vegetables was in order….I love this part of the show – a chance to see the vegetables neatly presented and this year they really did look stunning.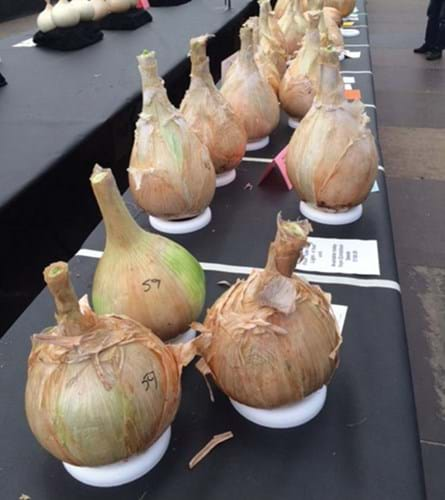 No time to get emotional!
For once I was speechless!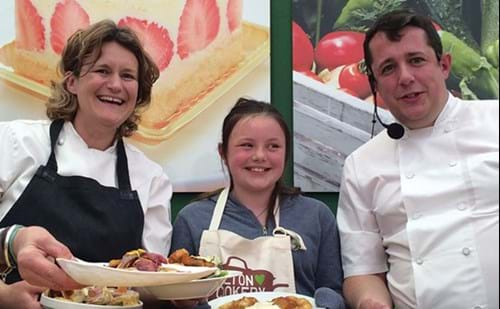 Over the weekend, I also undertook a Ready Steady Cook challenge against local Chef Paul Mackie from Goldsborough Hall. This was great fun – Paul and I rushed round, sharing pans and the banter was rife! We each prepared three dishes in 20 minutes, so not bad going! I used some of our Kitchen Garden award winning rhubarb in a pigeon dish with edible flowers, kohlrabi and fennel salad. The fun factor created a great deal of rivalry – so much so, a young lady in the crowd got up on stage to join us and a cracking job she did too.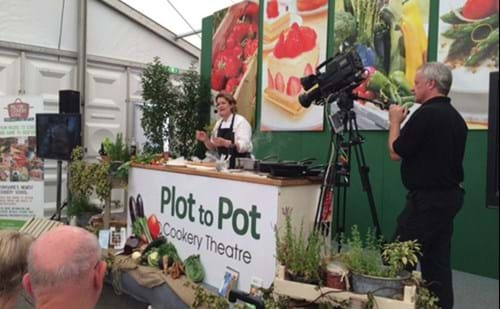 For my own demonstration it was a chance to use some of the Kitchen Gardens produce again. This was a great thrill, being able to use salad leaves, vegetables and fruits whilst still frighteningly fresh – we really are truly spoilt in our kitchens.
It was an honour to be asked to help the team at the Flower Show and as always it was a pleasure to be involved.
Flower power all the way….
Steph x