Lexus Supper Club and more...
Adrian Reeve accepts the culinary challenge ….
From Garden to Table is what the kitchen garden at Rudding Park is all about and working with Adrian Reeve our amazing kitchen gardener is well up for a culinary challenge and when I told him we were cooking with Tom Kerridge and Tommy Banks he was first to bring along some exciting produce.
The challenge was great – would I like to do a Lexus Chefs Supper Club with Tom and Tommy- wow try and stop me !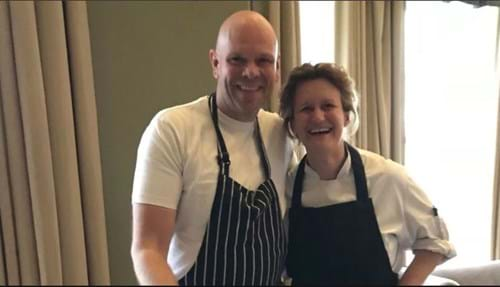 My course was a real team effort with Matty our development chef , Deon our Head Pastry Chef and Max our new pastry chef all bringing their suggestions to my dish. I knew I wanted a Fab Lolly on their and a cocktail and we worked backwards form there.
All the team were excited about the prospects of working with these two culinary giants and Michelin marvels.
From my side I can honestly say I was excited and a little dry mouthed at the prospects but I knew I wanted to stand proud next to these guys and my dish to be as good as theirs in its own way.
The menu tasting came first on a wet windy day we had the River Street team Laura the MD and Sophie the Editorial director of the BBC Good Food Shows and the BBC Good Food Magazine,Scott Bassage the Experimental Manager for Lexus , Tommy Banks and His development chef Nick also Chris- Tom Kerridge's development chef too.
When Scott said he hates Rhubarb I thought it was going to be a tough gig! But he ate all of the pudding and drank the cocktail then I relaxed a little – they all loved it in fact all three courses where approved that day.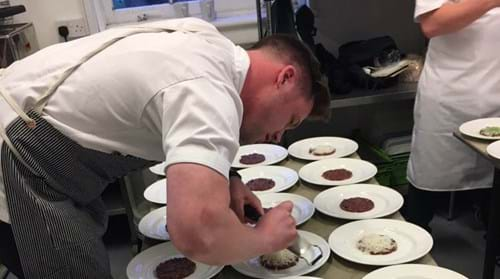 Tom K will do the following main course, "Malt & Beer Cooked Chicken with Wild Garlic Clanger, Mushroom Crunch and Oak gravy."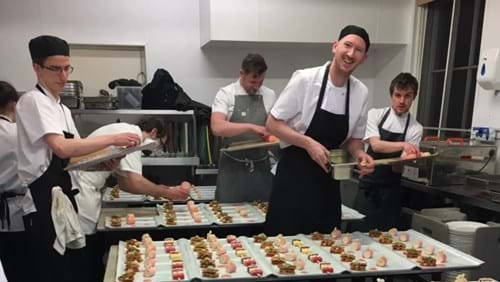 Venison tartare with smoked bone marrow and wild garlic:
The venison tartare will be diced like a normal tartare, seasoned with shallots, parsley, pickled garlic seeds and chilli ferment before being bound in slow cooked egg yolk. It will be topped with grated frozen bone marrow and freeze dried wild garlic.
Per portion:
60g diced venison
5g brunoise shallot 
5g finely chopped parsley
chilli ferment (I will bring)
pickled wild garlic seeds (I will bring)
10g of slow cooked egg yolk
salt
Bone marrow (I will bring)
Freeze dried wild garlic powder (I will bring) 
Slow cooked egg yolk: cook eggs in a water bath in their shells for one hour at 65 oc remove the shells and whites and beat together to make a thick smooth glossy puree.