Welcome to 2017!
Yes my Wild Cook compadres we are all going for a new look! We have our new blog home, bringing a new look which is a great deal fresher and brighter.
So far, so good... and with the forthcoming year shaping up nicely, I have lots of projects and events planned. I cannot wait for my hard hat tour of The Spa at Rudding Park in February. The Spa is really taking shape now and the finishing touches are going to be made this spring. Watch this space for further developments!
How are you getting on with your New Year's resolutions? Surprise, surprise I am on a diet! And trying to stop swearing completely. I have to say I am finding one a great deal easier than the other and it is probably not the one you would think! If you've not done very well with your resolutions so far, Chinese New Year isn't until 28 Jan - start afresh then!  2017 is the year of the Rooster and I have looked up and apparently my birth sign means I am an Earth Rooster - described as being lovely, generous, trustworthy and popular with friends. (I'm not so sure they would agree with that but it sounds good, doesn't it!) 
So New diet for the New Moon!
I am going to share with you a quick idea for an almost healthy dinner! Continuing the theme, this recipe uses ingredients common in Eastern cooking such as tamarind and pandan leaf. After a hard day's work this tasty treat won't leave you feeling unsatisfied. It doesn't taste like something you would eat on a diet and it's simple, with not too many ingredients, I promise.
The inspiration to share this dish came from meeting a culinary legend, yes the man who Sir Gary Verity rightly introduced as "the guy who brought the Wok to Great Britain".
Before Ken Hom we had no woks - well not many and he certainly popularised cooking in real time on TV. He told us he was never allowed to heat the wok beforehand because the BBC was afraid there would be house fires around Great Britain - caused by flaming woks!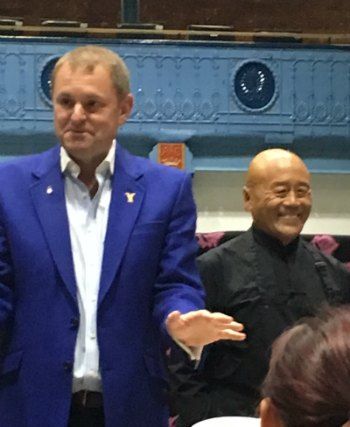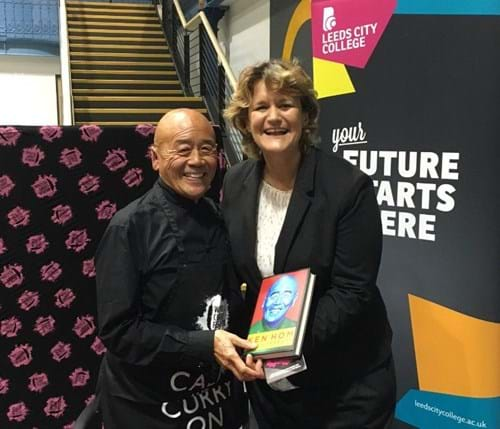 I was given a copy of the Great Man's autobiography and he was charming when I met him. He is softly spoken and a real gentleman. They say you should never meet your heroes, but this was something different I promise!
So, healthy food does not need to be boring and difficult to cook. Although this isn't one of Ken Hom's own, it uses lots of Chinese flavours, and of course it's best cooked in a wok! 
King Prawn Satay with Yellow Peppers and Pandan Fluffy Rice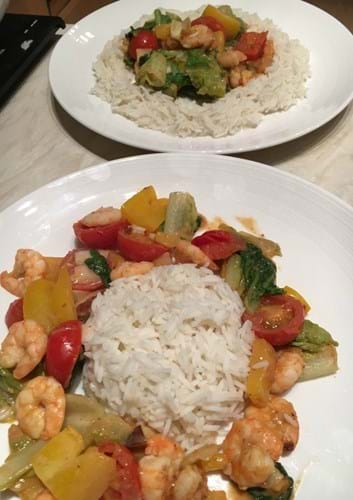 Equipment you will need
A pan to cook the rice with a tight fitting lid
A wok or a pan to stir fry in
Wooden spoon
Serves two and takes 25 mins to cook maximum
Ingredients
120g Basmati rice
1 Pandan leaf (available from Chinese supermarkets or specialist shops)
150g King prawns with shells and veins removed
20g Peanut butter crunchy*
1 Yellow pepper, small, with seeds removed and chopped
4g Fresh garlic, peeled and crushed
4g Fresh ginger, peeled and finely chopped
15g Tamarind sauce (available from Chinese supermarkets or specialist shops)
10g Lime juice, fresh
8 Cherry tomatoes
60g Chinese leaves
1 tsp Vegetable oil
Maldon sea salt flakes to taste
Method
Combine the peanut butter, garlic, ginger, tamarind and lime to make a marinade. Mix well and add the prawns.
Allow to marinade for at least 5 mins before cooking.
Now place the rice in the pan and cover with cold water until the water sits 1 cm above the line of the rice.
Place in the lightly washed pandan leaf (you may wish to rip the leaf in half to fit into the pan).


Rice and pandan leaves
Add a pinch of sea salt and place the lid on tightly. Bring to the boil on a moderate heat and simmer until cooked, leaving the lid on. I cooked my rice on number 7 on an induction hob.
Whilst this cooks, heat the vegetable oil in the pan or wok and leave until the pan is hot.
Add the satay mixture and stir
After 1 minute, add the chopped yellow peppers
Cook for a further minute and add the final ingredients, the cherry tomatoes and Chinese leaves.
At this stage you may need to add a tablespoon of water from the cooking rice (the starchiness will help to thicken the juices in the pan and cover your vegetables and king prawns with a shiny glaze.
Check the rice is not sticking and, once all the water has evaporated, remove from the heat, leaving the lid on.
Now you have two pans ready to serve your meal. You can serve either the rice or king prawn satay in the centre of the plate, as pictured, whichever you prefer.
*To be very healthy omit the peanut butter, but the dish loses something with this.
The real trick here is in the cooking of the rice

Steph's tip
This tip I got from a chef who worked at Rudding Park for many years. Herman was a Filipino chef and this tip has always stayed with me.
Try not to look at the rice until you think it's cooked. Steaming the rice and water evaporation makes a really fluffy pandan rice with bags of flavour.
So a new year, and what a year it promises to be.
I hope this year is going to be as exciting and interesting as the last one.
Steph
Off to chew on a carrot stick (shame there aren't any in the Kitchen Garden yet!)