North Carolina Seafood Festival
We love cooking fish at Clocktower! I know it is one of Head Chef Eddie Gray's favourite things to cook, and no wonder, he can cook a cracking crab or a majestic mackerel!
But this blog goes further afield than Clocktower… We are heading across the pond to North Carolina in USA.
The Wild Cook goes abroad…
I stayed with relatives in America, and what better way to thank them for their hospitality than by asking them and their friends to join us for a celebratory dinner. This meal championed the best of American produce; their stunning seafood and said thank you for a wonderful and memorable visit.
Raleigh is a city full of surprises and the seafood I found was great quality although high in food miles. The freshness of the fish was impressive, much like fish from Clocktower suppliers it is caught one day and in the kitchen the next – fresh is always best.
You can tell fresh fish by its pink gills, bright eyes and fresh smell. Slimy when it comes to fresh fish is good!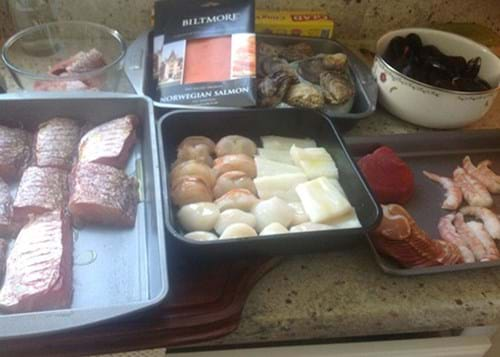 On to some serious prep: red snapper, scallops, turbot, lobster, tuna steak, Americano air dried ham, king prawns (or shrimp as they are known), mussels, oysters and Biltmore salmon.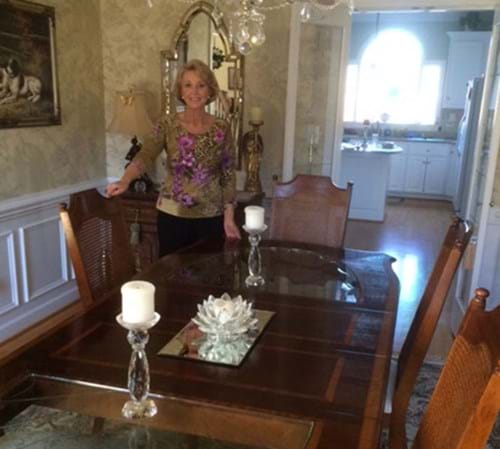 Aunty Sheila setting the table for dinner.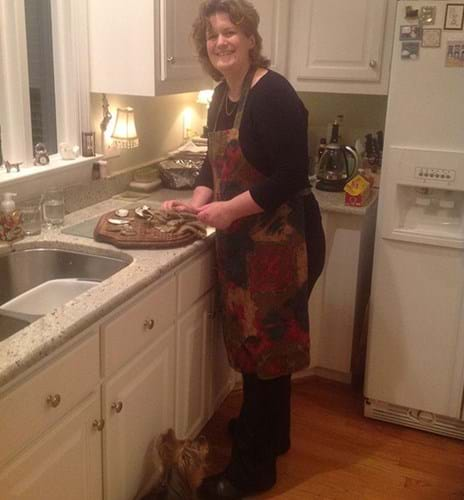 Time for me to get busy opening the oysters…I was eagerly watched by Angel, Iain and Sheila's Yorkshire Terrier. At 15 years old she's a very sprightly pooch!
Canapés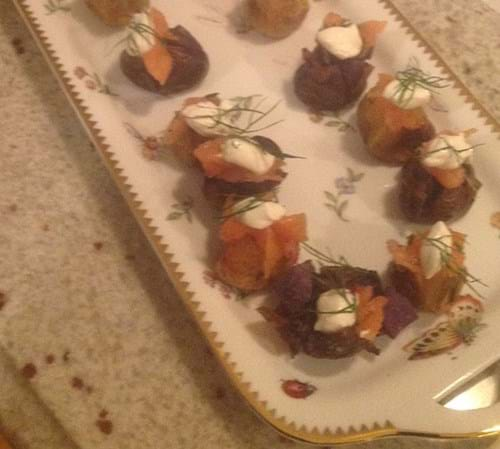 Oyster with compressed cucumber and apple and a champagne sabayon
Mini baked heritage potatoes with Biltmore smoked salmon and dill crème fraiche
Marinated tuna and lime with watercress and herb salad
King prawns wrapped in Americano cured ham with chilli coriander dip
These were served on Aunty Sheila's stunning array of crockery and placed on a Waterford Crystal table. This really was a dinner to remember – the guests seemed pretty happy!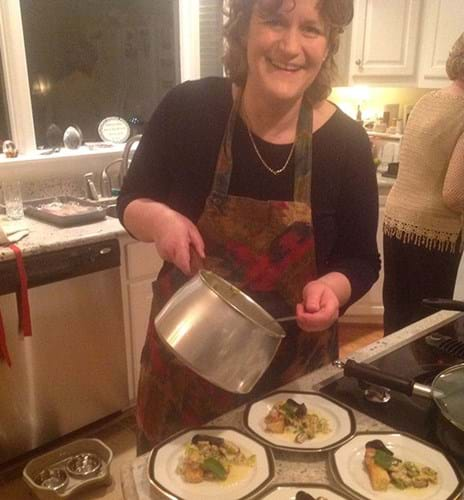 As the guests made short work of the canapés, discussion centred around what each one was and where the fish had come from. Meanwhile it was time for me to start on the main meal.
To start we had one of the simplest dishes of the night and one of my personal favourites:
Mussels, leeks, smoked bacon and cheese served on a slither of lightly toasted brioche.
To make your own simply steam open the mussels in a white wine shallot liqueur. Fry the bacon without oil, adding the leeks and a little of the mussel steaming liqueur. Once reduced slightly add the grated cheese and steamed mussels out of their shells, (leaving one in the shell for garnish) and serve hot with a little sauce around to soak up with the brioche.
It was perhaps a little unusual to have another fish course before the main course, but I really wanted to serve a veritable banquet of fish in all shapes and with some sauces that really pack a punch.
This course was turbot, the King of Fish and this American one really was a handsome fellow! The scallops when I opened them were the size of golf balls – America likes to do things bigger! They reminded me of opening scallops years ago during work experience in Charlie Trotters famous restaurant of that name. At the time, Chef Trotter was one of the finest chefs in America, a mantle that he held for many years until he sadly passed away a number of years ago.
These were served with a Bourbon flambéed Lobster bisque, rich and decadent. Good job we only go on holiday a few times a year!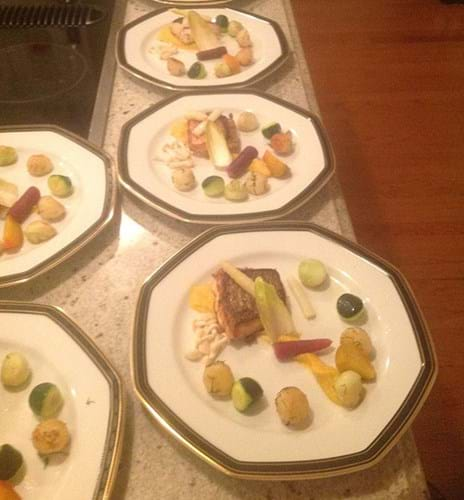 Main course:
Red Snapper with a sauvignon blanc beurre blanc and pearl vegetables, along with some stunning heritage carrots. I love these heritage old style varieties, they remind me of the vegetables grown in the Rudding Park Kitchen Garden.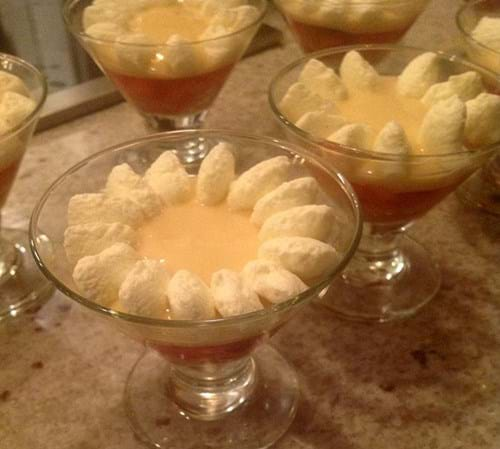 Dessert:
A quintessential British Trifle.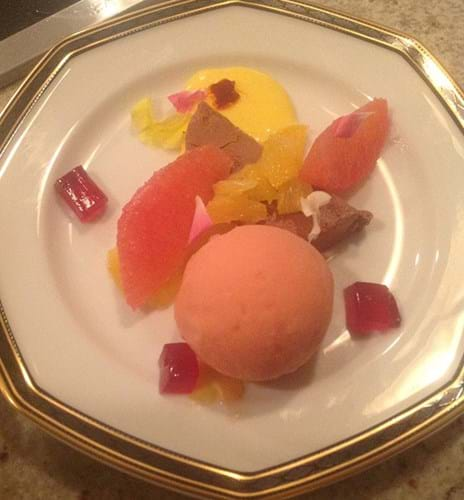 Chocolate Marquise with a citrus salad of pink grapefruit, edible flowers, blood orange sorbet, pomegranate lime jelly and citrus crumbs (I used these as the glue to stop things from moving around the plate).
What a night! The evening went so well that I forgot to take a photo of the group. A real shame as it was a great fun evening and a photo would have been all smiles. I had a great group of happy foodies coupled along with some stunning American wines, it was a true Seafood Festival.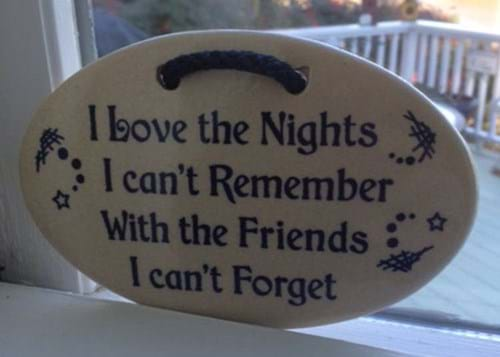 I saw this plaque on the windowsill as I was leaving and thought it was great. Words to remember!
As they say down south 'So long Ya'll'
Steph x