Ouse or Ure!
One of my brothers in law is a keen fisherman and regularly visits Linton on Ouse with his team for fishing competitions.
So Ian said, "Let's go for a walk along the Ouse/Ure rivers near the toll bridge."
"What?" was the reply. "Walk along two rivers, you must be joking!" With all the kids and dogs it sounded like a long way!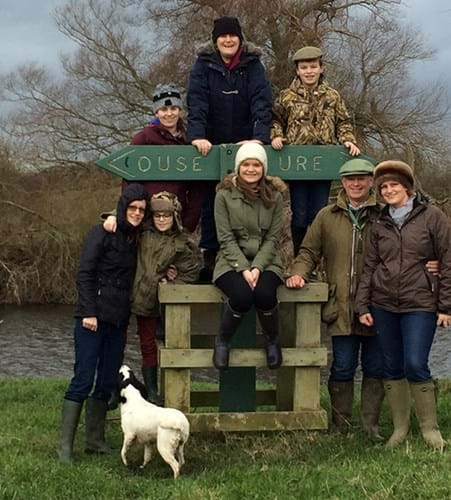 Little did we all know they are the same thing; the Ouse turns into the Ure and vice versa. Here is a photo to prove it with the extended Moon clan!
When we were kids going to village hall social parties, we would play river/road; there would be a line down the hall floor and you would step from one side to the other. When the music stopped you had to try and balance in the right place without falling over; not easy.  Here we could get the team to play Ouse/Ure with their wet suits on!
The dogs were all happy as they ran down the grassy river bank without a sheep in sight, not even a fisherman on this frosty afternoon.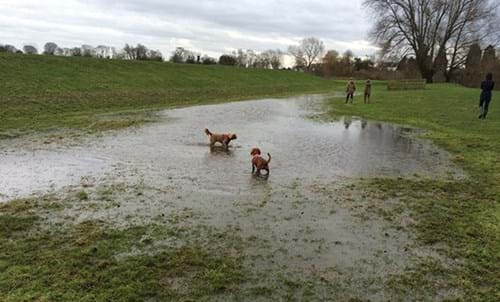 The other family dogs went straight in the river but as you can see my two had more sense. At least they know their limits!
Honey, my King Charles Cavalier tried her paw at moleing!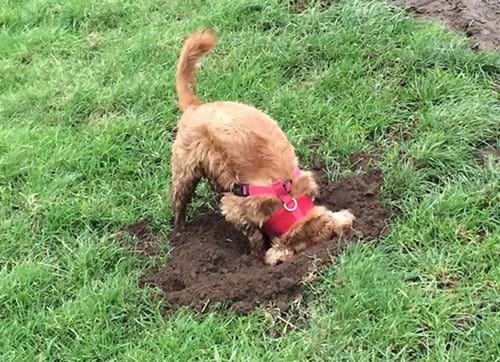 Honey the Wannabe Mole Catcher!
The walk was great, the family loved this crisp Yorkshire day in the picturesque area surrounding Linton on Ouse.
Then back Chez Moon where we sat down to an early dinner. We joked around the table about the day.
Ian made the starter which was a game terrine, served with salad leaves, my own quince jelly and crusty bread.
Ian's recipe for Game terrine is really good, all the kids ate it too. Interestingly he placed a line of green olives into the centre, which went particularly well with the bacon and game filling. It is an easy recipe with simple rustic presentation, but the taste was bang on.
The Terrine is upside down here and Ian had done a great job getting it ready. My Sister Georgina said it had taken him some time to prepare the birds then make the terrine. (You can buy game birds ready prepared if you prefer.)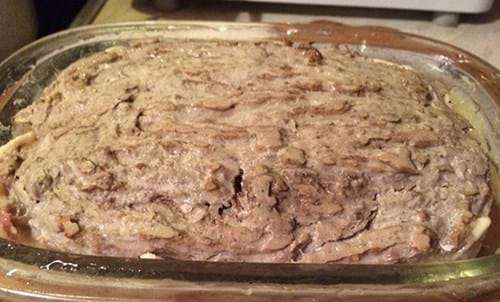 Here it is ready to turn out. Contains pheasant, woodcock, snipe and pigeon.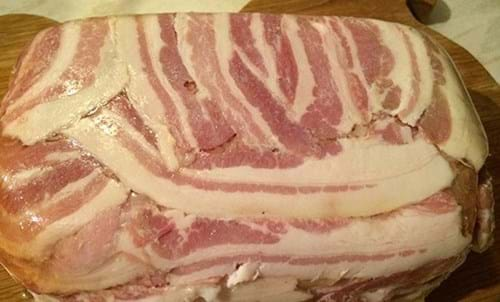 The Terrine turned out and ready to feed 10 people, which it did with some to spare! Ian did a sterling job.The recipe is here:
Ian's Game Terrine
Ingredients
4 pheasant breasts
4 woodcock breasts
4 snipe breasts
4 pigeon breasts
2 teaspoons of ground black pepper
2 teaspoons of mixed spice
4 cloves crushed garlic
4 oz butter (melted)
1 very large glass of port
12 rashers of streaky bacon
25 green olives (de-stoned)
Method
Remove the skin and any shot from the birds. Place the game meat in a blender and blend until smooth. (If you hear a clicking sound it may mean there is some bone or shot in the meat. Take time to find it, do not continue until all the meat is blended smooth and any sinew removed).
Next, add all the other ingredients except the green olives and the streaky bacon. Season with salt and pepper if necessary.
Cover with streaky bacon and add a layer of sliced olives in the middle for effect.
This rustic looking terrine shows that even if you don't cook regularly, you can still get super results. Why not have a go?
This was washed down with some mulled cider which, after a walk in the cold air was very welcome.
Mulled Cider
Serves four (with top ups!)
6 cans cider (I use Thatcher's Gold)
2 dessert spoons runny honey
1 lemon studded with 6 cloves
1 cinnamon stick
3 star anise
Simply bring all the ingredients to the boil. Taste and sweeten as necessary or add a few drops of lemon juice if too sweet.
Allow 20 mins mulling time once warmed, then serve.
If you are having a dry start to 2015 or you do not drink alcohol the kids enjoyed a non alcoholic version. .

Getting the hot cider mulled with a little brandy, spices and honey.
A real family treat and a quality day I will remember for a long time
Steph x