Remember, remember the fifth of November
Born and educated in York, it seems appropriate to celebrate the failed 'Gunpowder Plot' to blow up the houses of Parliament – headed up by the notorious York citizen, Guy Fawkes.
To celebrate Bonfire Night the team at Rudding Park are holding a departmental Guy Fawkes competition. Each department is making their own Guy Fawkes to be judged by our Facebook followers. The best Guy will then be placed on top of the Rudding Park Bonfire on Saturday 7 November. Follow  our Facebook page to place your vote on Thursday 5 November – 'Remember, Remember the Fifth of November!'
To me, Bonfire Night is always about family fun, sweet treats and feeling cold! So full of firecracker spirit, here are a few different recipe ideas to warm you up for the big event.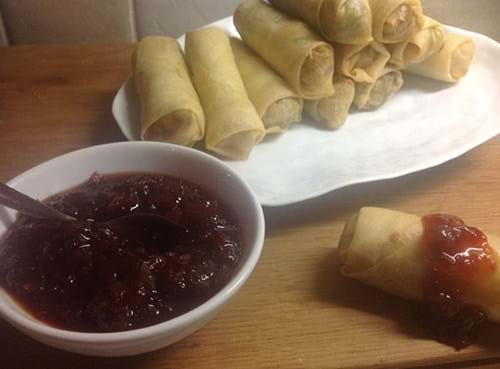 Sweet Chilli Vegetable Spring Rolls with Sweet Chilli Jam
This recipe is a great idea for a light nibble or a vegetarian main course with a difference.
Sweet Chilli Spring Rolls
Spring Roll Ingredients
1 carrot peeled and finely chopped
1 red onion finely shredded into half-moon slices
4 cloves of garlic crushed
4 cm ginger peeled and finely chopped
2 large red chillies (stalk removed and finely chopped)
¼ white cabbage (stalk removed and finely shredded)
1 teaspoon of heaped soft brown sugar
20 sheets of spring roll pastry
Sticky mixture to 'glue' the spring rolls
2 tablespoons of flour
2 tablespoons of water
Method
Fry the chilli, ginger and garlic in a little vegetable oil for 30 seconds, then add the carrot, cabbage and onion. Season and allow to cool.
Mix together the 'glue' ingredients to form a paste.
Roll out the spring roll pastry and place it in front of you in a diamond shape. Spoon the filling across the middle of the pastry diamond, leaving about 1 inch from each corner. Fold in the left and right corners then fold down the top and roll into a sausage shape,  gluing the end of the pastry down with the sticky flour 'glue'.
Take the spring rolls and deep fry in vegetable or sunflower oil at 180oc for 2-4 mins or until golden brown. Make sure you don't cook too many at once as they have a tendency to stick together.
Remove and serve with sweet chilli dipping jam.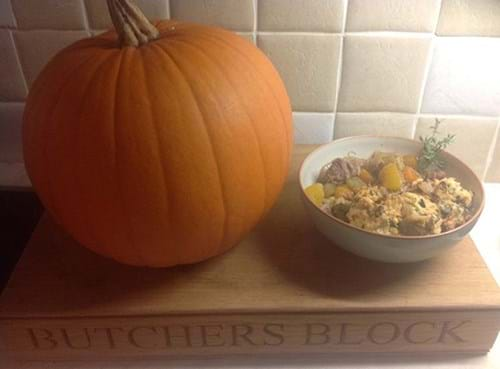 Chilli Pork and Pumpkin Casserole with Leek and Pumpkin Seed Dumplings
Guy Fawkes was a 'fungi' but there are no mushrooms in this seasonal casserole! Try this recipe and use up your pumpkin centre from Halloween – waste not want not folks!
Pork, Chilli & Pumpkin Casserole
Serves 4
Casserole
8 pork cheeks
2 large red chillies (split, seeds and top removed then finely chopped)
2 carrots peeled and chopped
1 red onion peeled and chopped
¼ of a pumpkin (de-seeded, peeled and chopped into nugget size pieces)
2 leeks (outer leaves and ends removed, washed well and chopped)
3 stems of celery washed and chopped
1 pint of Daleside Blonde
2 bay leaves
1 pint of beef stock
Casserole Method
Place the pork cheeks in the base of a slow cooker then layer up all the washed chopped vegetables, chilli and bay leaves. Pour in one pint of beer and the one pint of beef stock, place the lid on the slow cooker and set at a high heat for 6- 8 hours.
Once it has cooked through remove the bay leaves.
Thicken with 3 tablespoons pf cornflour mixed with three tablespoons of cold beer or stock to mix stir this in and once thickened pour into a deep dish.
Set your oven at 190°C.
Dumplings
200 g self raising flour
100 g suet
4 tablespoons of pumpkin seeds
Pinch of salt
2 leeks finely chopped
100 g butter
Splash of cold water to bind
Dumplings Method
Fry off the butter and the washed chopped leeks together until they are soft. Add all the ingredients to the cooked leeks, mix well with a little splash of water to bind and roll into golf ball sized dumplings.
Place the dumplings on top of the deep dish of stew and bake at 190°C for 30 mins to form a golden crust and a soggy bottom! (the only time food requires this!)
After a hearty warming casserole it's time to start on the fun stuff and have a go at making your own doughnuts. These are surprisingly easy to make and you can fill them with whatever you like!
Today I am going for apple and cinnamon, although I have recently made raspberry jam and pumpkin and ginger ones which were really good too.

Cutting out the doughnuts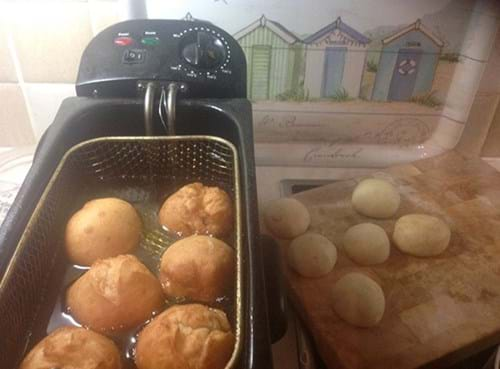 Apple and Cinnamon Doughnut frying – look how big they grow!
The doughnuts increase in size in the fryer and really taste amazing when rolled in the buttery glaze and icing sugar. No wonder our American friends go crazy for doughnuts, they really are yummy!
Apple and Cinnamon Doughnuts
Makes 20-25 depending on size.
Doughnuts
1 teaspoon of ground ginger
8g dried yeast
70 g butter
70 ml warm water
100g golden caster sugar
300ml  warm milk
Pinch of salt
2 free range eggs
80g butter
60ml water
650g – 690 g plain four (Until it forms a paste)
Method
Fill a fryer full to the line with vegetable, sunflower or rapeseed oil.
Mix the warm water and yeast together with a teaspoon of golden caster sugar from the 100g already weighed out and allow the mixture to start reacting.
Mix in the rest of the doughnut ingredients together until they form a ball. Knead the dough for a couple of minutes until the gluten has started to develop. Once kneaded, cling film the mixture and leave in a warm place for 20 minutes until doubled in size.
Roll out the mixture and cut into 20 pieces, the shape you want the doughnuts to be. Place a clean tea towel over the top and allow the doughnuts to double in size again.
Fill the doughnuts using one of the fillings below. To fill, make a well in the centre of each doughnut and put a spoonful of the filling into it. Then, using your fingers cover over the filling with the doughnut mixture and reseal.
Heat the deep fat fryer to 180°C.
Place the doughnuts in the fryer four to six at a time and fry until golden brown on either side. Remember you will need to turn them over half way through cooking.
Doughnut Glaze
80g butter
3 caps of vanilla essence
220g icing sugar
3 tablespoons water
Simply warm all the ingredients together to form a thick glaze. Once combined, remove from the heat.
Method
Pour the glaze over the doughnuts, covering them all over. Allow to cool on a wire rack. Any excess glaze will drain off.
Choose your favourite filling…
Apple and Cinnamon Filling
6 eating apples (peeled, cored and finely chopped into cubes)
2 teaspoons of cinnamon
1 teaspoon ground ginger
Method
Melt the butter, add the apples and allow to soften. Add the spices and cook for a few more minutes before removing from the heat and allowing to cool.
Pumpkin Filling
1/4 pumpkin (peeled, de-seeded and cut into cubes)
2 teaspoons cinnamon
1 teaspoon ground ginger
Method
Melt the butter, add the pumpkin pieces and allow to soften. Add the spices and cook a few more minutes before removing from the heat and allowing to cool.
So after a warming Pumpkin Casserole with Dumplings and Apple and Cinnamon Doughnuts it's now time for two classic treats synonymous with this annual event….Honeycomb and Parkin.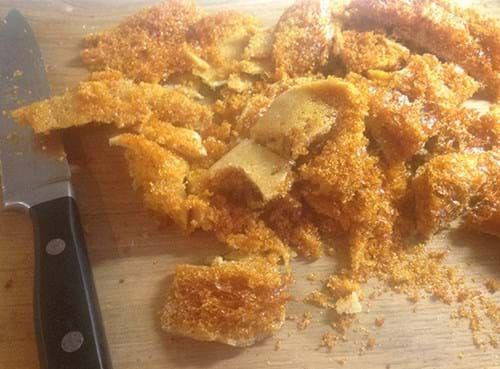 Honeycomb cut into giant pieces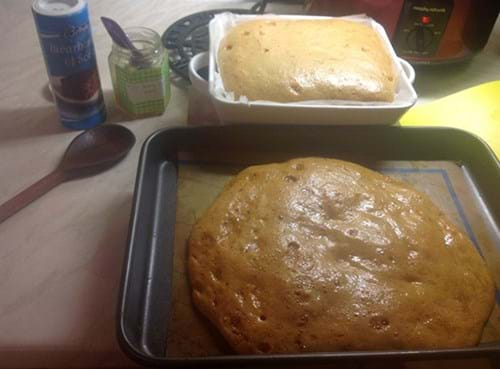 The fun part of making Honeycomb is watching the volcanic molten lava grow. Just look how I turned my brother-in-law's springtime honey into a wintry treat! 
Bonfire Honeycomb
Ingredients
400 g Golden caster sugar
1 tablespoon of Yorkshire honey
4 tablespoons of golden syrup
4 teaspoons of sieved Bicarbonate of soda
Method
Bring the golden caster sugar, yorkshire honey and golden syrup to the boil. Once it comes to the boil, stir and when it turns golden brown (this only takes a minute), add the sieved bicarbonate of soda.
Stir a couple of times then remove from the heat as the mixture will start to grow!
Transfer onto a greased sugared tray and allow to cool without knocking all the air out. (Remember it will still be boiling hot so be careful).
Crack into pieces with a knife and serve at the bonfire.
The other delicious treat for Bonfire night is a Yorkshire classic – Parkin.
It's a great way to celebrate our explosive Yorkshire heritage and I am sure Guy Fawkes would love a bit of it! This classic is best left to rest for at least a week as it becomes stickier and gooier with time.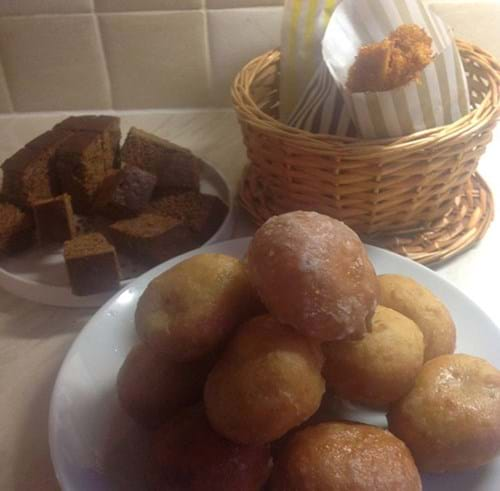 Steph's three bonfire treats lined up ready for the big night!
Yorkshire Parkin
This recipe is quick to make and can be eaten straight away, but for the best results make it at least a week before serving.
Ingredients
125 g butter
125 g molasses
70 g black treacle
200 g golden syrup
3 sachets of golden syrup porridge
220g self raising flour
3 teaspoons ground ginger
1 teaspoon cinnamon
2 eggs
Pinch of salt
3 tablespoons of milk
Method
Melt the butter, treacle and syrup in a pan and pour into the mixing bowl.
Add the rest of the ingredients, mix and pour into a greased lined baking tray.
Bake at 180°C for 30-40 mins. If a skewer comes out clean, remove from oven and place on a wire cooling rack. If not, continue baking for another 10 minutes until the skewer comes out clean.
Ideally leave whole until you are ready to serve, then slice.
After all this cooking, we have one pleasantly "full Moon", off to go and find some sparklers!
Steph x