Rhubarb – the First Yorkshire Food Festival of the year
What is it about Yorkshire rhubarb that makes it so special? Where to start! There are many reasons, including our climate – who would have thought the cold and wet would be such good news!
'Shoddy', a by-product from the old wool industry days gives our soil a high Nitrogen content, great for growing rhubarb. Yorkshire's water also helps to grow amazing rhubarb.
Yorkshire Forced Rhubarb also has its own 'PDO' (Protected Destination of Origin) from the European Union. Never mind Champagne and Parma Ham, rhubarb has earned its status and rightly so.
Back to Wakefield town centre and what is happening today…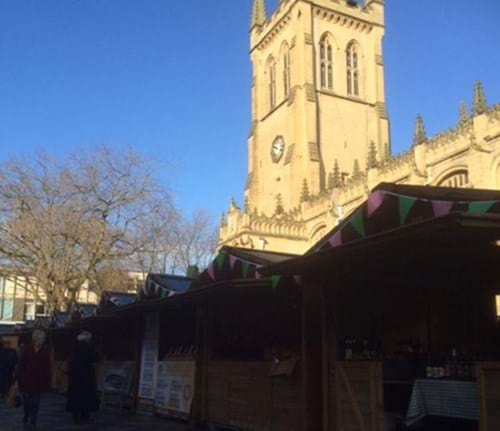 The new-look wooden stalls in the town centre looked very rustic under the watchful eye of the Cathedral Church of All Saints.
The stalls were filled with fresh new displays, I found myself tempted by the bright colourful rhubarb display for the Hepworth, below. All the local shops were in on the act too, I had a meeting after my demo in the funky Marmalade café and their pink and green bunting looked fabulous.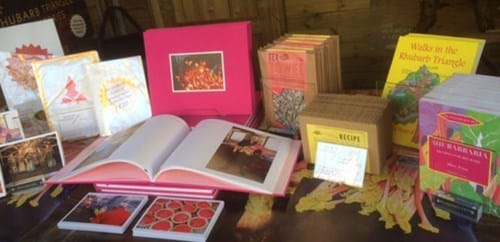 It was nice to have a quick chat in between customers with Lindsay from the team at Oldroyd's, he is such a great chap. We spoke about the tough start they had this last year, not getting the required frosts, but they have made up for it now and look at that produce – stunning stuff. With Lindsay gaining his BSC in Agriculture in 2002 his parents, Janet and Neil, have a great young gun to add to their team.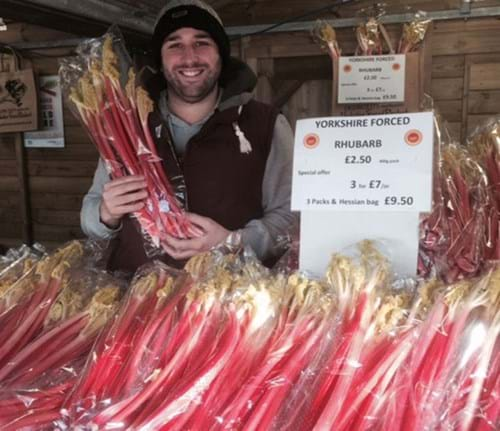 Rhubarb originally came from Siberia, but has found another spiritual home in the fields and sheds of Wakefield.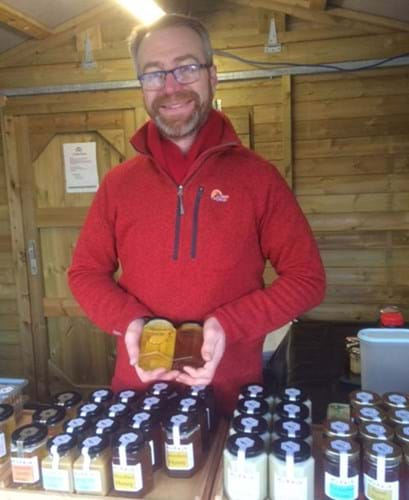 Just around the corner from Lindsay I met Bee Keeper Chris Holmes whose 'Stickey's Honey' I have used a great number of times. He's a bee keeper whose more interested in the health and welfare of his bees than making honey, so we had a fascinating chat about the difference a few miles can make to the end product. Yes, it is all about what the bee eats. He held up two jars that came from hives two miles apart, and the colour contrast in the runny blossom honey is quite vivid.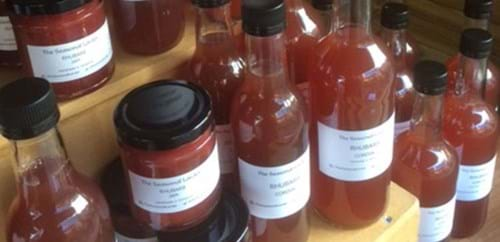 Another great find was Rhubarb Cordial. It really tasted lovely and I bought a bottle.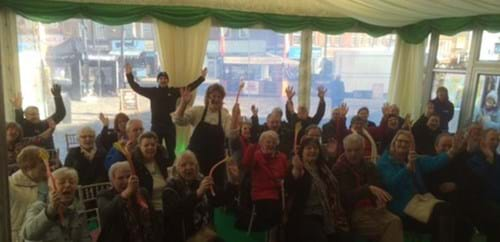 Here we go folks, getting the crowd exciting about rhubarb as the last few seats filled up before my demo.
Smile and say rhubarb!
The crowd really jumped on the free samples at the end of the demo. We used rhubarb grown by Adrian and the team in the Rudding Park Kitchen Garden.
If you come for lunch at Clocktower and take a stroll to the Kitchen Garden you will see the antique growing pots which are a give away to the treasure beneath. The quality is great.
Rudding Park even entered the rhubarb into the Harrogate Autumn Flower Show last year and won first prize, something of which the team were very proud. Read more about Rudding Park award winning rhubarb here.
There was a great chef line up, with Rachel Green, Ashley and his son Ben from Ye Olde Sun Inn and Peter Sidwell and Heather Copley from Farmer Copley's. We all share a great love for rhubarb.
When the main lady of the show, yes Dame Ruby Rhubarb(!) turned up for a selfie, I felt very humble to be asked.
Another great festival and a chance to catch up with what's new in the world of rhubarb.
Steph x
(And yes, it's true… I have worn my wellies up in the sheds at Oldroyd's Farm and you can hear Rhubarb 'crack' as it grows!)