Until a year ago I never worried about adding salt to my dishes.  As a trained chef I was always encouraged to put salt in everything. Those days have gone, now as a nation we are conscious about our salt intake due to the increased risk of heart attacks and strokes and therefore the amount of salt used when cooking has reduced.
It was a great pleasure to be invited Warwick University as a guest chef and to meet Professor Franco Cappuccio to learn about the science behind salt and deliver a cookery demonstration.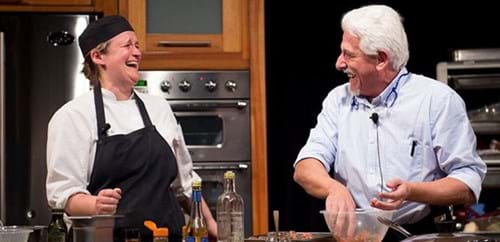 Franco is a Professor of Cardiovascular Medicine & Epidemiology and a technical advisor for the World Health Organisation so I was in very good company!
We did a unique collaboration. He explained why salt can be bad for our health and I demonstrated how delicious meals are with no added salt- this was a tough challenge for me!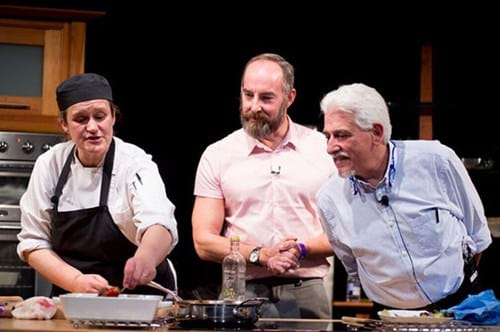 Did you know? As adults we only need 1g of salt per day and on average we eat up to 8g per day, but the Italians are even more generous with salt when cooking.
As a chef, it is quite hard to cook without salt as we are so used to cooking with it and getting incredibly tasty results. However, the Meat Balls and Trout Salad which I cooked and the audience tasted went down a treat.
Professor Franco Cappuccio explained how we have been eating salt for many years and how he has worked with recognised brands such as Heinz Tomato Ketchup to reduce the amount of salt in their products.  The amount of salt reduced in brands such as Heinz Ketchup isn't carried out overnight, it has taken a number of years to reduce the proportion so that consumers don't recognise the difference in taste.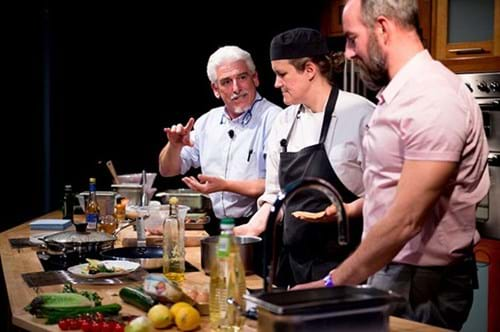 After our demonstration, we were joined on stage by David Gregory-Kumar a BBC Presenter – who was great company. Other chefs then demonstrated including Michelin starred chef, Mr Vivek Singh, a BBC Saturday Kitchen regular and Michelin starred chef Mr Adam Bennett who was the chef to represent Team GB in the Bocouse D'or.
Vivek Singh demonstrated a spice master class and explained how adding spices to dishes not only adds flavour but the different spices offer many health benefits.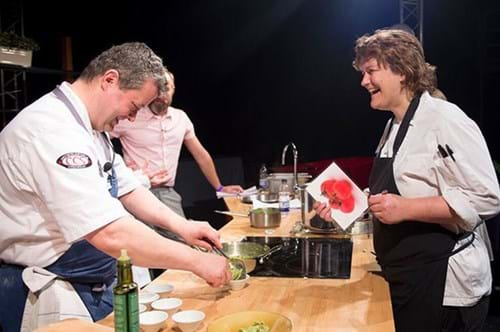 Adam Bennett's cookery demonstration focused on the health benefits of broccoli and how if we ate broccoli every day we would be incredibly healthy (if you ask me there is only so much one can eat!). He made a Broccoli Ice cream (not sure this will catch on chef!) and Avocado and Cocoa Nib Ice Cream which was wonderful.
Below are two recipes which I demonstrated. One with very little salt and the other with a moderate amount. Try them out and see if you can work out which has the least salt. They are both great for family meals, with lots of flavours such as spices in the meatballs and a citrus tang in the trout dish.
Recipe: Spiced Morocan beef meat balls with roasted red peppers and homemade flatbread
Recipe: Smoked Kilnsey Trout served on a celeriac remoulade with salad leaves and lemon dressing
Remember – keep your hands away from the salt box folks!
Steph x