Stray FM Local Hero Awards
I have a strong connection with local radio station Stray FM, through my regular guest slot on Will Smith's "Flavours of the Week". This evening show is broadcast live at 7pm every Thursday. I cook a dish using local produce and Will and I discuss the events of the week.
As a result of this, I was invited to the Stray FM Local Hero awards. I was delighted to accept and show my appreciation for the outstanding achievements of the nominees, and it also offered me a chance to attend an awards dinner at Rudding Park – something I've not done for a while. An added bonus was that we were sat with some of the Rudding Park marketing team and some Stray FM staff, so we had a lovely time.
The marquee had been decorated to do justice to the occasion, and the guests were looking equally fine! Dinner was cooked by a team headed up by my good friend and peer Matthew Wilkinson, Development Chef at Rudding Park – so it was a night off for me - all I had to do was enjoy it!

The audience just before the start of the awards
Our official menu and programme was a teaser for what was to come. The excitement was building…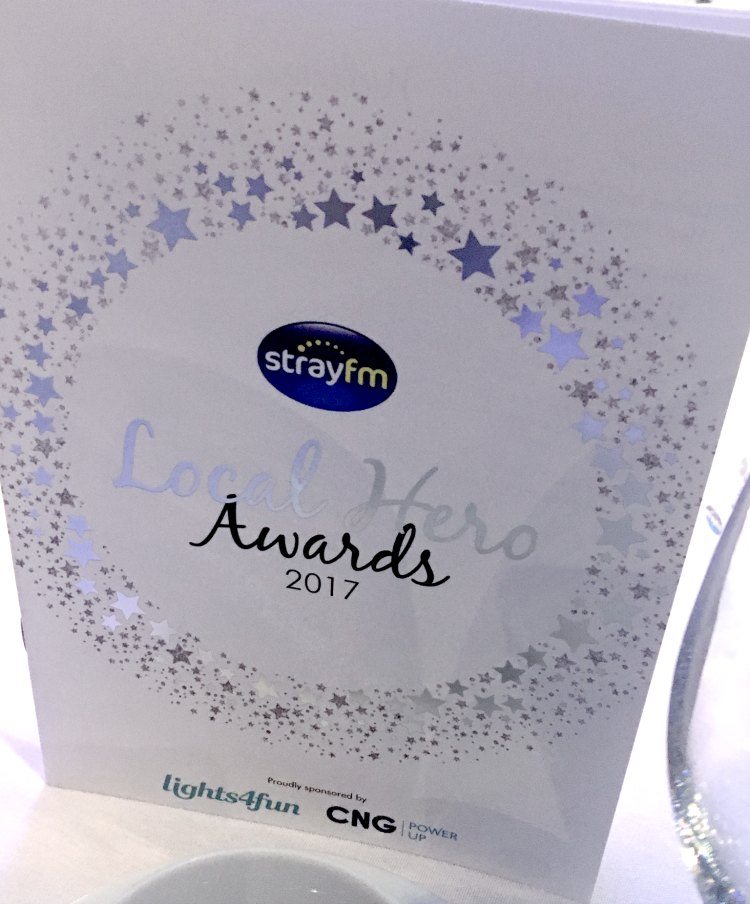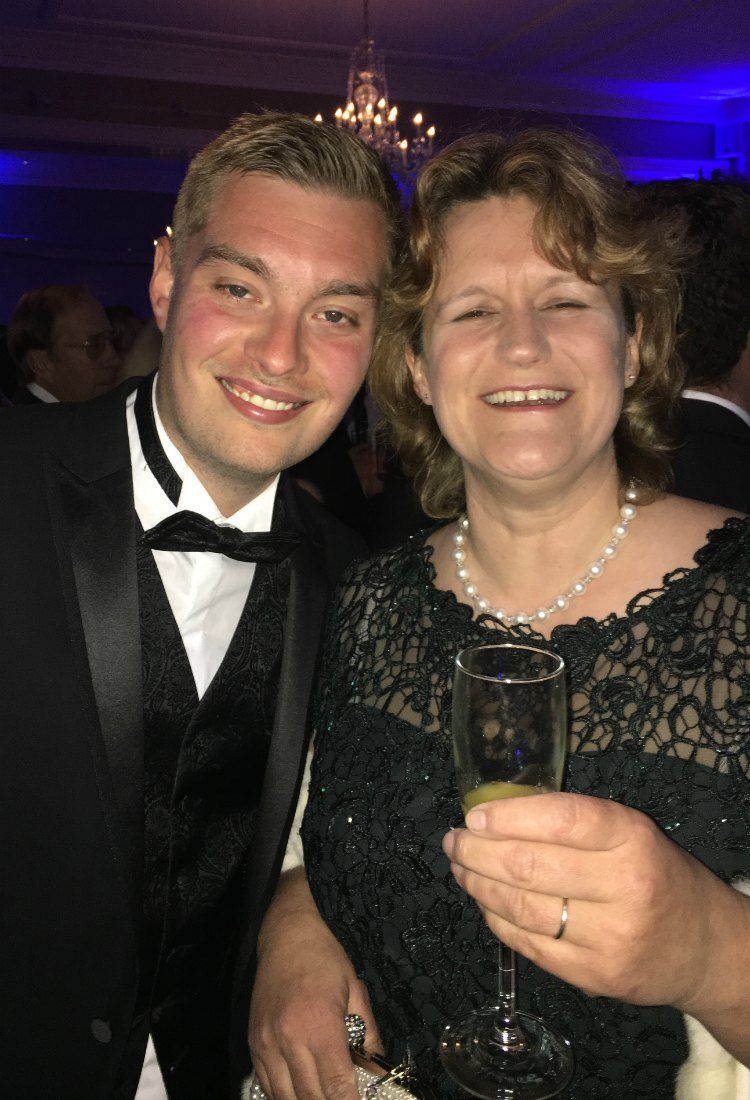 DJ Will Smith in his DJ!
Will Smith and I have become good mates through doing the weekly show and he is a rising star – both Will and breakfast presenter Nick Hancock were the evening's MCs. They did a great job of creating a really good, uplifting atmosphere, celebrating the success of the Heroes whilst acknowledging the hardships some of them had gone through. I shed a few tears during the evening, but I also had to smile at their resolve.
It's so important to highlight the experiences and stories of the nominees. It was a very humble experience to see how people can turn their lives around when the going gets tough. There wasn't a single Hero I didn't admire, but my heart really went out to Claire Senior, who won Parent of the Year, for her resilience and determination.
At large events like this, one of the key challenges is keeping everything running smoothly and to time, especially with children attending. The food preparation, cooking and service is a big part of this – co-ordinating several hundred servings is no small task! So, to the food…
A lovely, flavoursome starter of ham hock, quail egg and broad bean tart, served with English mustard, cucumber pearls and garden salad. This was a really fresh dish – as you can see below. All the food photos were taken at our table.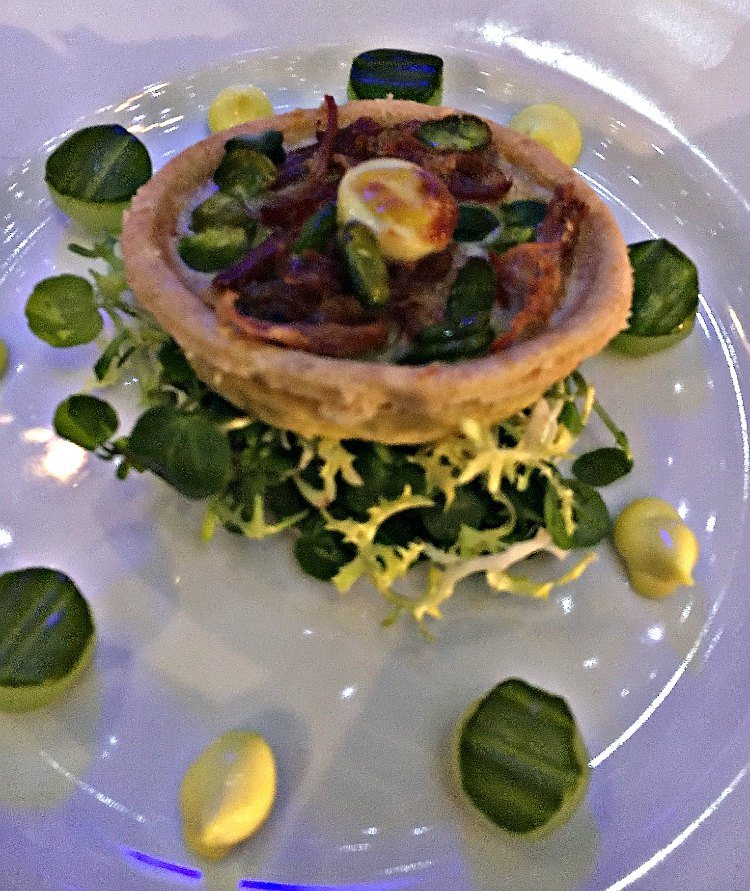 The main course of slow cooked beef onglet with salt beef and horseradish potato was soft and sticky and really melted in the mouth. It was accompanied by white onion puree, asparagus and broad beans.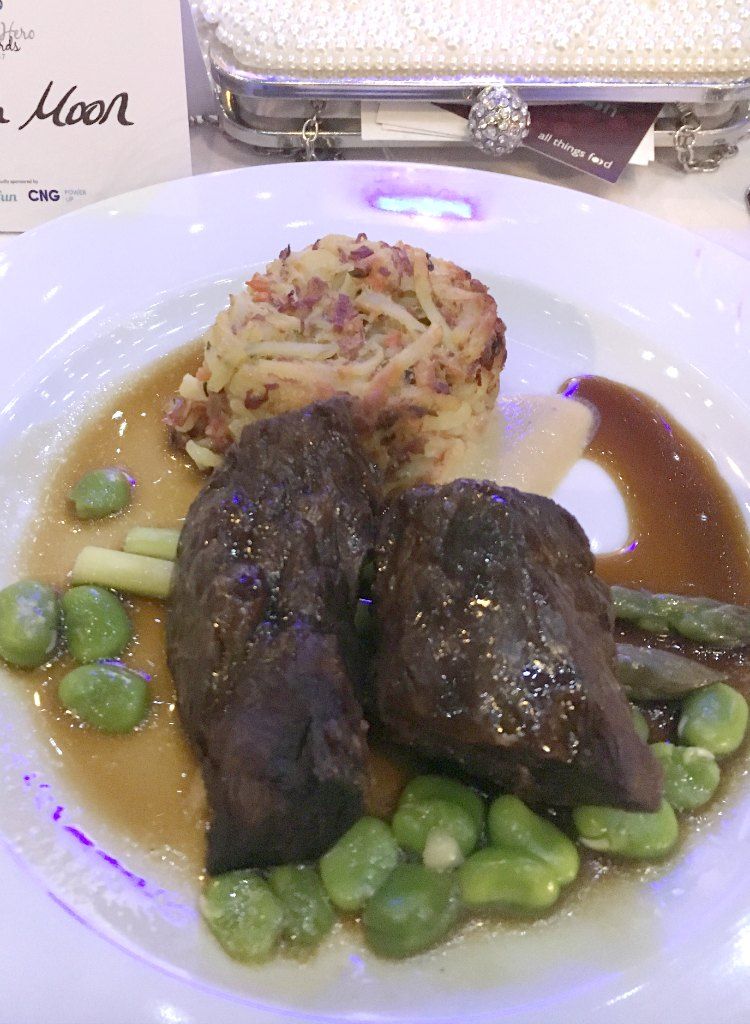 A chocolate pudding isn't really my bag usually, but this milk and dark chocolate mousse was really light and the blood orange sorbet and ginger crumbs were a great complement.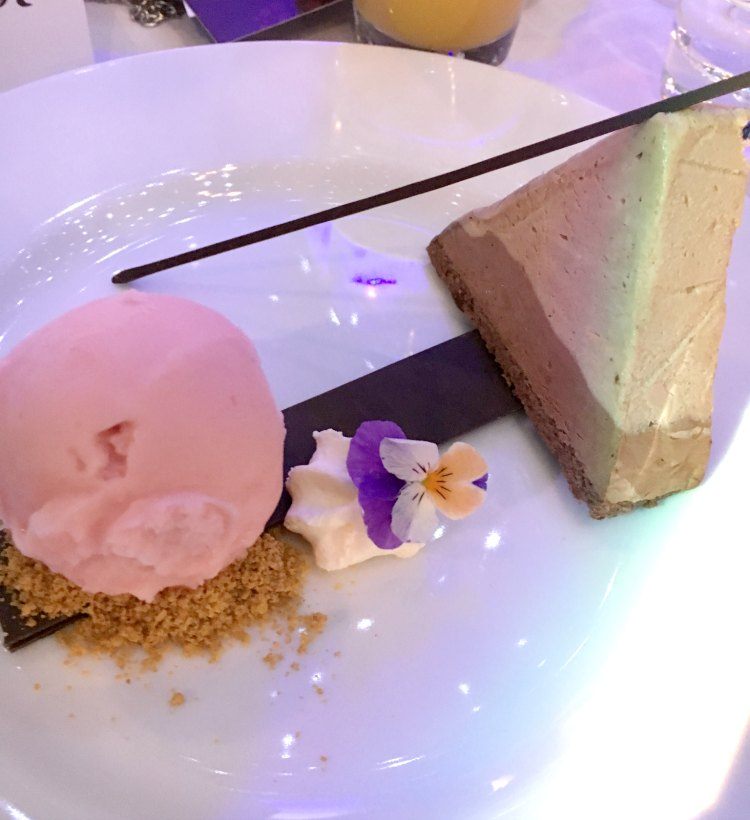 All in all, it was a great evening. The awards ceremony itself made me surprisingly emotional – I did have a cry and if you were there I'm sure you might have too! Some of the work done in the community is absolutely outstanding, and I was so impressed by Child of Courage, Oliver Myers. You can watch Oliver's story and that of the other winners on the Stray FM website.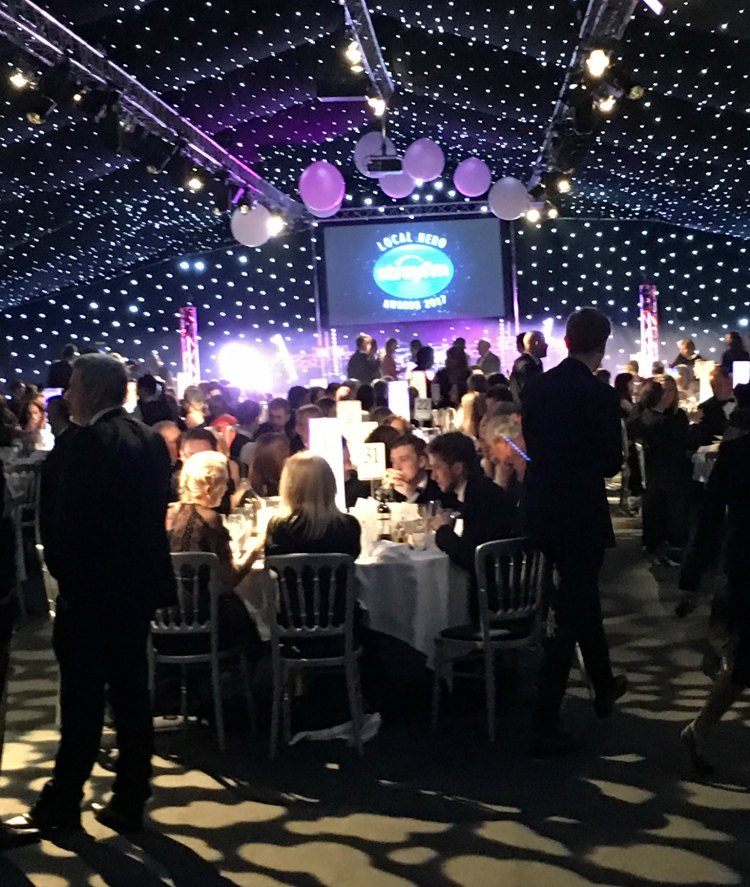 The start of the awards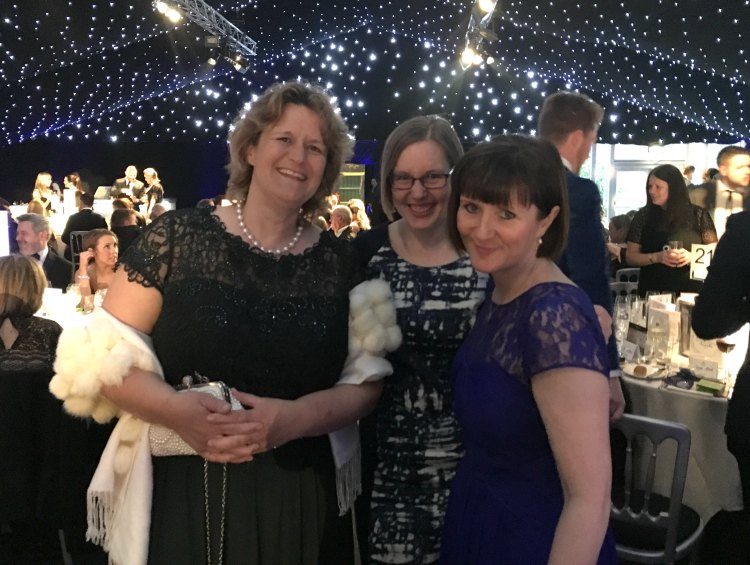 L-R: Steph with Gill and Nicola from the Rudding Park Marketing team
After the awards, it was time to wipe away those tears and there was a quick chance to go backstage and meet the chefs.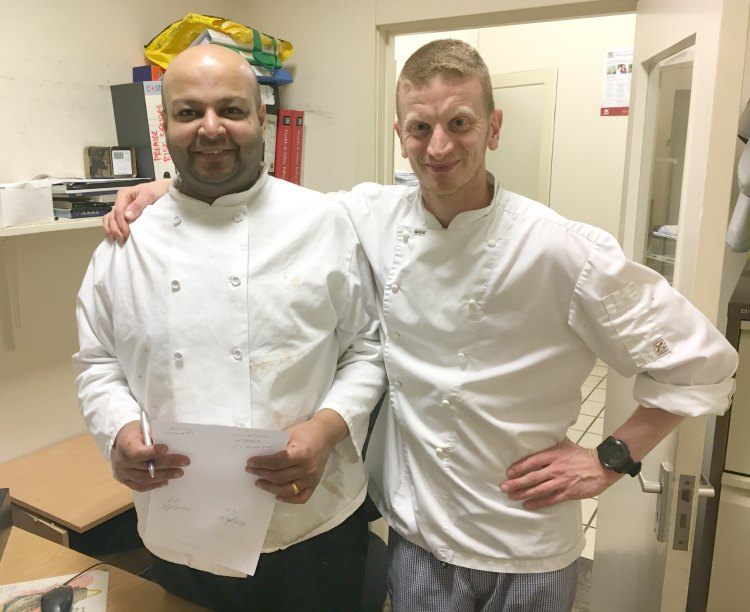 Matty (right) and Saju (left) were getting ready for an event the next day that was much larger than ours – around 950 people!
The boys were happy the event had gone well and it felt very good to congratulate them on a job well done before visiting the kitchen and seeing some of the other chefs, who were all cleaning up ready for a busy day ahead.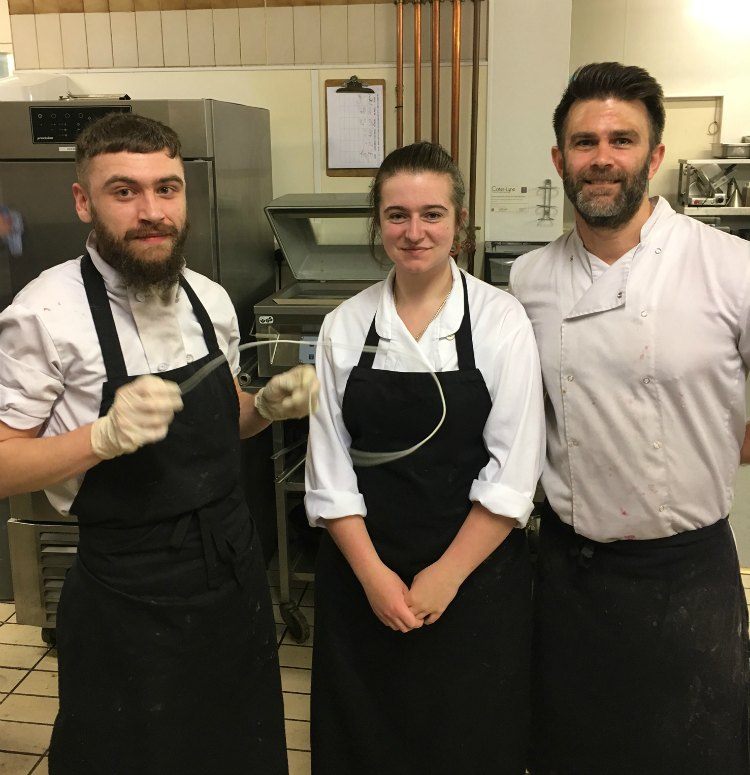 Dan the Commis, Emma the Commis and Deon the Pastry Chef of the Conference and Banqueting kitchen.
Whilst their achievements can't be compared to the winners, these guys did a brilliant job of making everything run smoothly and helping to ensure the night was a success.
Although this event was for over 300 people, one of the challenges of a chef's job is finding the perfect menu for any event, whether a private dinner party or a huge ceremony, but it's all part of a day's work at Rudding Park. If you're planning your own event, you can find out all about room or marquee hire at Rudding Park here.
Steph x