The Wild Cook gets a Scoop!
It seems like only yesterday I was offered a 'Muck Chuck!' by the local Young Farmers Club. I was none the wiser then, it sounded rather messy to me. I now know this refers to getting compost from local farms, then digging it over in your garden for winter. Villages often club together to get their gardens growing. Read on for some top tips to use now…
I can honestly say I know very little about gardening. But, inspired by National Gardening week 13 – 19 April and the upcoming Harrogate Spring Flower Show, today's blog is about all things green!
I got lucky and had an interview with Adrian Reeve, Rudding Park Kitchen Gardener, who let me in on a few secrets that will hopefully help all in our gardens.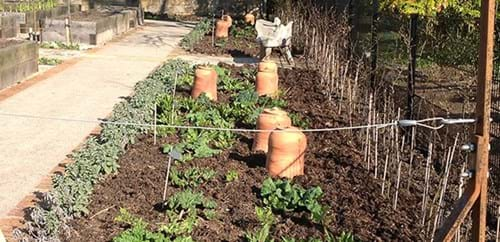 Kitchen Garden Rhubarb Pots
The Rudding Park Kitchen Garden is open daily from 10 am until 4pm for guests to enjoy and stroll around. Even now at a fairly quiet time, there is still plenty to see.
The garden greenhouse is full of Lemon Verbena plants grown from our Owner Judi Mackaness's Lemon Verbena plant. I adore the flavour of Lemon Verbena, it was brought over many years ago to make soap around the time of the Spanish Armada. It has an amazing lemon taste and is really lovely simply served with boiling water as a tisane (similar to a cup of tea).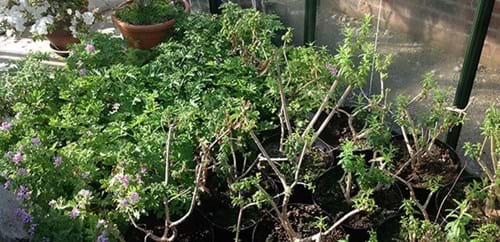 Lemon Verbena Plants
'Hey Steph, look at this sprouting Quince tree!' The shout from Adrian is very welcome to me. I can tell a quince from an apple at 100 paces, but put me next to a quince or an apple tree and I am none the wiser!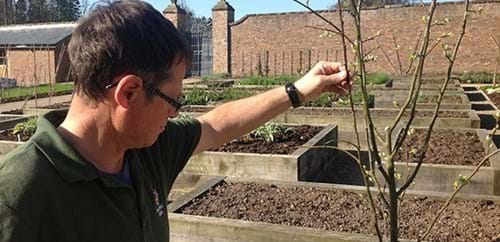 Adrian Reeve, Kitchen Gardener's Top Tips
So here for some of Adrian's top tips for your garden this springtime…
Buy salad seeds now as the new stock is in and get planting.
Plant courgettes and pumpkins.
Get those tomato plants growing in your greenhouses.
Keep an eye out for any pests or disease and spray with cultural methods.
Alternate some cultural and pesticides to avoid incidents of pests etc. building up resistance. (This is called an 'integrated management system'.)
Grow your carrots above 300mm because carrot fly does not bother them. Some older darker carrot varieties and the round, marble shaped carrots have resistance to carrot fly. (From my point of view they look amazing on the plate too!)
Sow herbs like chervil.
Thanks for those top tips Adrian. For any more details you can pop along to Clocktower for Lunch and ask Adrian yourself as he is to be found in the Kitchen Garden most days.
As a Chef, having a kitchen garden is the extra 'Je ne sais quoi'. The extra burst of freshness and brightness of edible flowers, the aroma of freshly cut herbs and the thrill of cooking with produce that was in the ground that morning.
No wonder we all love it.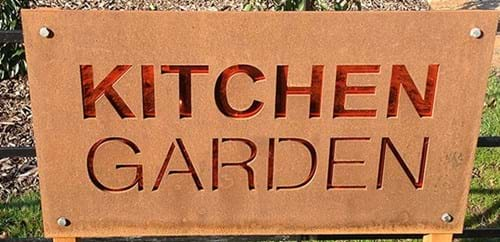 Kitchen Garden – Up Close and Personal
A sign of things to come: Rudding Park Kitchen Garden is sprouting into life. I cannot wait to see what magic it produces this year.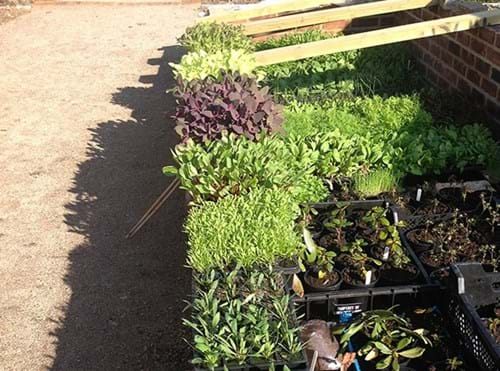 Healthy Stuff – Anyone for salad?
These salads are only a few weeks old and look how quickly they grow. A great way of getting started in the garden if you are like me and your fingers are not that green!
This last photo shows the garden looking a little bare as things start to grow – look back to our Kitchen Garden Blog to see the garden brimming with bounty.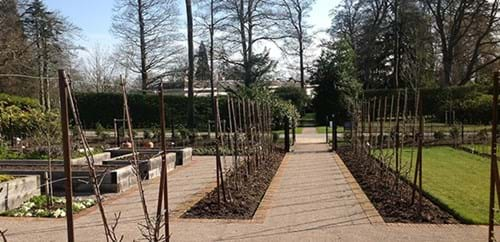 The lull before the storm of colour and flavour and mind blowing herbs and salad and fruit and vegetables
Happy digging and planting people, take those tips and get busy!
Steph x