You can't have 'two' much of a good thing-two chefs host two pop ups in two places
Two Chefs Host Two Pop Ups in Two Places
As autumn settles in, it's good to take stock and look back at the highlights of last season. It was a summer of firsts: Rudding Park launched its first pop up restaurant with Murray Wilson at Horto and I also hosted my first pop up in the Emirates Spinnaker Tower in Portsmouth.
And the similarities don't end there… or even with the edgy shots against a textured background!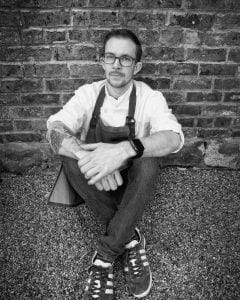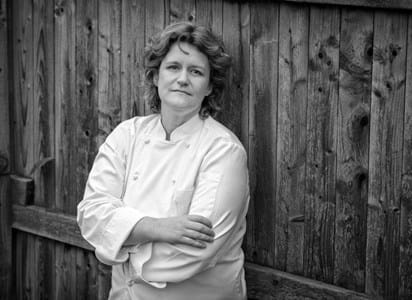 Murray Wilson, Horto Head Chef, Rudding Park
Stephanie Moon, Sky Dining, Emirates Spinnaker Tower
Let's take a look at some of the other common features:
Using local, fresh produce
Murray has really hit the ground running at Rudding Park and his love of fresh produce has been the bountiful foundation of an exciting menu which features ingredients from the amazing Kitchen Garden at Rudding Park. This, coupled with Murray's local knowledge of great suppliers has helped in making his mark on the Yorkshire food scene.
I was in a different boat when it came to sourcing my crop – I really went back to the drawing board and very quickly through research learnt about the best produce in the area of Portsmouth and where to get it from. Being a Northerner, the food scene of Hampshire was new to me. The Isle of Wight grows a real garden of produce – not forgetting to mention South Downs lamb which really rocks too!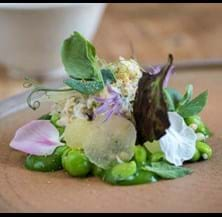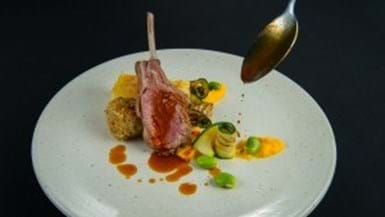 Yorkshire Crab, peas, buttermilk – Murray Wilson – Horto
South Downs Lamb cutlet, bon bon, slow brasied shoulder, carrot anise puree, feves – Steph – Main meal at Sky Dining
Murray has designed his menu to let the Kitchen Garden really take centre stage with Yorkshire's finest produce as the hero, whilst my menu this summer was all about the best of Hampshire fare – something I knew nothing about until I came to the county but I guess I had to be a quick learner!
Spotlight on Seafood
No south coast restaurant venture would be complete without taking advantage of the location to feature produce of the sea! Solent fish has a great name for itself and featured in the starter at Sky Dining.
Although not quite as close to the coast, Horto benefits from the proximity of towns such as Scarborough and Whitby, and its menu also showcases their catches.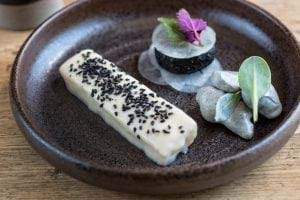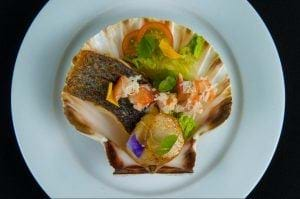 This John Dory dish is really stunning. I tried it when I ate at Horto recently and really enjoyed the flavours
Solent Seabass, Crab, scallop, braised gem, fresh peas, borage, wood sorrel from Sky Dining with Steph
Lots of little bites and plates to make one great experience
Both Sky Dining and Horto offer tasting menus – a number of courses which allow us to present a full spectrum of dishes to really create a fantastic adventure into the food for our guests.
Let's take a look at the menus:
Horto sample menu – Murray's menu

(changes every week due to seasonal produce being available)

Sky Dining at the Emirates Spinnaker Tower – Steph's menu

Snacks

Beetroot & beetroot nasturtium, celeriac

50 day aged beef

North sea crevette, spruce, cod's roe

A simple garden salad, confit egg

Kitchen garden salad – Murray Wilson – Horto- Rudding Park

Whitby Crab, peas, buttermilk, horseradish

Scottish Monkfish, black & white mussels, kohlrabi, hay

Yorkshire lamb loin and bacon, broad beans, lovage, spiced sauce

White chocolate, anise, raspberry & almond

Strawberries, cheesecake, wild woodruff

Canapés and Champagne on arrival

Steph's canapés above for Sky Dining… Solent Mackerel, torched cucumber, fresh wasabi

Summer Hampshire beetroot, cherry, parsley blinis, soured cream

Belly pork, smoky bacon jam, pasta pansotti with maple glaze

Cauliflower, summer truffle oil and sweetcorn 'eggs' with brioche soldiers

Amuse

Chalk stream trout, lemon verbena, turnip, pear

Starter

Seared scallop, Isle of Wight crab, Solent seabass, butter lettuce, tomato, fresh peas, borage, wood sorrel

Limoncello sorbet

Main

Hampshire South Downs lamb cutlet, sticky braised lamb, bon bon

Carrot anise puree, fèves, courgette, potato terrine

Isle of Wight Strawberries and peach plate

Peach panacotta, marinated strawberries, Cloud 9 ice cream, peach flambé, strawberry elderflower jelly, meringue, fresh basil and strawberry confetti

Coffee

Your choice of freshly ground Southsea coffee or Portsmouth tea, our own

Herbal tisane

Fordingbridge sea salted caramel fudge

Lavender fields chocolate fancies

Fresh cherry crackle

Pimms' lollipops with sherbet dib dab

A special thank you to our incredible local suppliers for all their support bringing the finest produce from Hampshire and the Isle of Wight to your table set amongst the stars!
Murray is a chef I have known on the Yorkshire Food Scene for a number of years now and a chef I helped to nominate for Harrogate Hospitality Awards Chef of the Year – well deserved dude and any of the guests choosing Horto for a meal will see why!
The thing I love about Murray's menu is it appears so simple and yet the techniques used are ultra modern and up to the moment. His food has a complexity that is fascinating to eat and try and work out how he has done it! Which brings me to some of the differences between our two pop ups:
The cooking methods
Our food is different – our styles are poles apart, but I respect Murray's talent, his way of working and his food ethos. The guy knows more about a centrifuge than I will ever know, and my one Big Green Egg cannot compete with his two! There is still something quite remarkable about putting food in a pan and watching it cook though and I am sure we can both agree on that. Having eaten at Horto and enjoyed my dinner immensely, I am a fan of Murray's food.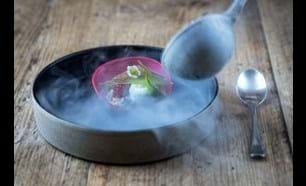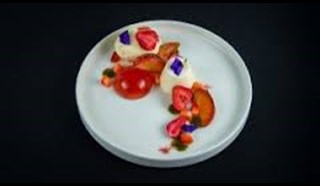 Murrays pudding plate of Raspberry, Skyr, Lemon verbena. This ultra modern dish looks amazing and can i be honest the theatre in that food is exciting!
Isle of Wight strawberry and peach plate, Mingella Cloud Nine ice-cream and basil puree Steph uses Hampshire fayre to the best of her ability here
I'd just like to say at this point that it is not just all about Horto  at Rudding Park – there are some cracking chefs, some of the finest in the North of England let alone in Yorkshire:
Matty Wilkinson Development chef is a driving force and really making banqueting food as good as restaurant food in our kitchens with his Sous Chef Saggie, the power house of prep and organisation.
Eddie Gray – Clocktower Head Chef along with his second Chef Glenn Morrill have really done amazing things in Clocktower and this restaurant is still striving. Producing exceptional food at 2 AA Rosette standard for 200 covers takes some doing, believe me.
Rudding Park is keen to develop and nurture its staff and create an exciting environment for them to work in. Which brings me back to the next difference in our two set ups…
The setting
If you've visited Clocktower restaurant or the hotel, the look at Horto might surprise you. The pop up gave Rudding Park the chance to experiment with a modern, more industrial look – including a graffiti wall which is quite a feature!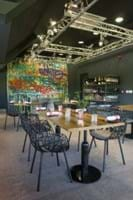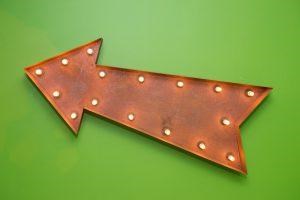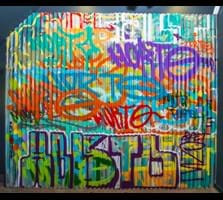 The graffiti wall provides a colourful backdrop at Horto
Before you enter, retro fairground style arrow lights guide you to Horto.
The wall in all its glory
The restaurant decor takes a back seat at the Spinnaker to the stunning views from the tower across the Solent. But not only can you look out, but the very brave can look down too! The most alarming thing I did in Portsmouth was walk over this glass floor of the Spinnaker Tower with a 100 meter drop – scary stuff I can tell you! It took me three weeks to pluck up courage before, thankfully, a helpful guest bullied me into going across! After a cracking night, it just seemed like a good idea…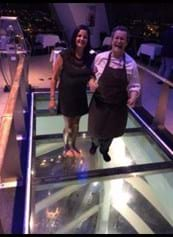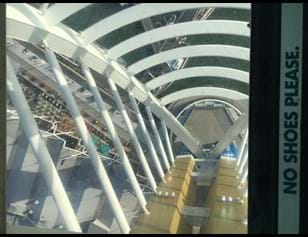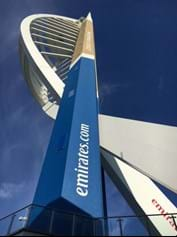 Steph and guest walk the glass
Arial view of the Spinnaker, walking across the glass floor at 100 meters high.
Emirates Spinnaker Tower from ground level!
My stint at the Emirates Spinnaker Tower went amazingly well – we sold out and I have been asked back so that says people must have liked the food!
And whilst I was still basking in the feeling of conquering the tower, look what I found in my hotel lobby in Portsmouth – I could not believe it: King Kong moment!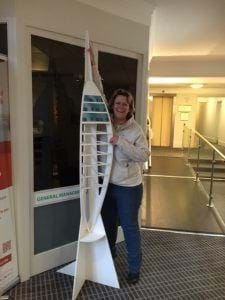 Steph holds onto the tower
It has been great to look at pop ups in a different way – both are unique, both offer a real guest experience and both have been complimented on the food offered.
For something new why not give pop up dining a try – I think the chefs are out to prove something and the effect is something quite special.
So, it's farewell to the Emirates Spinnaker Tower Sky Dining and as I come back down to Earth from my 100 meter, 50 cover restaurant it is great to reflect on a super experience and hopefully one many of you will try at Horto in the coming months. If you'd like to visit Horto and sample Murray Wilson's cuisine at Rudding Park, you can now book online – just click here. The good news is, Horto has proved so successful it's here to stay – the pop up has graduated to a permanent restaurant, with both tasting and a la carte options!
Sky Dining Steph comes back "Up North!" x