Junior golf member turns pro
JUNIOR GOLF MEMBER TURNS PRO
Steph Davies a Trainee Professional Golfers Association (PGA) Professional has always had a love for sport, including football, swimming, diving, trampolining and not forgetting her main passion as a child, netball. But what about golf??
Stephs' golfing career started at the age of nine when she was regularly taken onto the course in a golf buggy by her parents who are keen golf enthusiasts.  After many trips to the golf course and having a very competitive nature (due to having two older brothers) sitting in a golf buggy soon became tedious – all Steph wanted to do was have a go herself! So she did. The rest is history!! Well, if you read on you will discover her golfing history and find out how she went from a Junior Member to a Trainee PGA Professional at Rudding Park Golf Academy.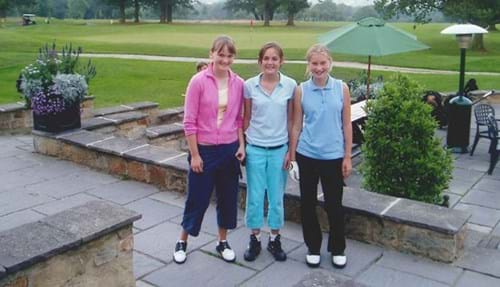 Junior members at Rudding Park Golf: Jess Fisher, Alice Boothroyd and Steph Davies  
"After hitting better shots than my parents, they soon decided to put me into group lessons but at the start I didn't really enjoy just standing on the driving range hitting ball after ball, which is what I seemed to do for quite a while. After my parents bought me a set of clubs my enthusiasm started to grow and I started playing more often. Around the age of twelve, I was offered a golf coaching scholarship programme along with a few other juniors at Rudding Park.  At the time I was very into netball so felt I didn't have the time to take on such a commitment, so I just carried on with my normal junior lessons.
Once my golfing improved, my confidence grew and I soon moved onto playing on the course. This is when I started to really enjoy the sport. I made a couple of friends and we caught the 'bug'! Throughout the summer my friends and I were on the course after school and most days during the holidays. I was hooked.
When I was thirteen I won my first Rudding Park competition – The Junior Girls Championships and I carried on winning various trophies each year until I was eighteen.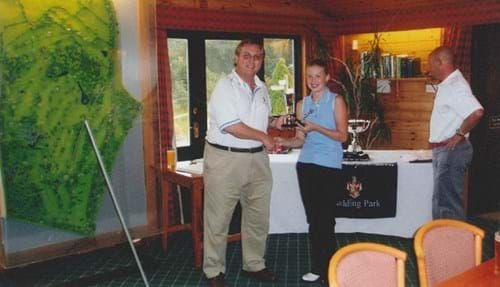 Steph receiving The Junior Girls Championship Trophy from her father, Club Captain Max Davies (2005)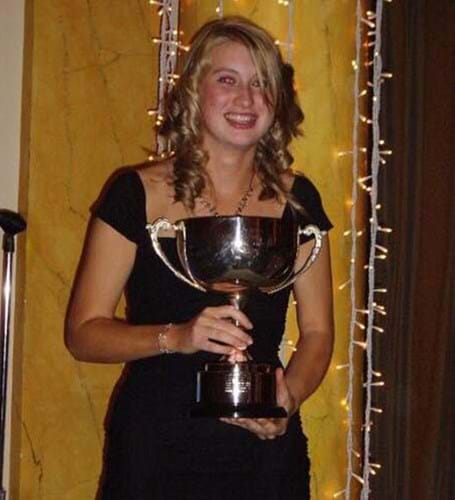 Rudding Park Lady Golfer of the Year (2008)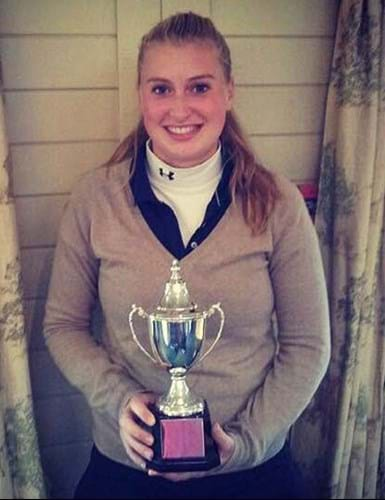 Winner of The Lady Captains Trophy (2013)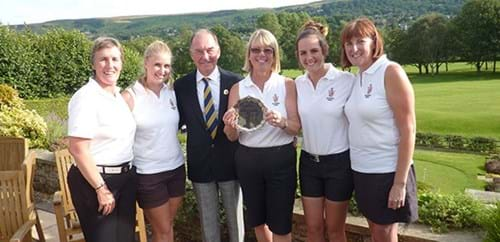 Harrogate District Union Silver Division Champions (2014)
Rudding Park Lady Members pictured from left to right: Sandra Taylor, Steph Davies, Clare Davies, Alice Boothroyd, Julie Parry.
Always finding psychology interesting at school I then went to Manchester Metropolitan University to study Psychology of Sport and Exercise. As there was no golf team, I only really played during the summer holidays when I was home.  I did try and start a golf society in my final year, taking a few people who had played or wanted to play to the driving range. Starting this society allowed me to represent the university in a BUCS competition, which I won.
After finishing my degree I saw an opportunity to go into golf psychology and/or coaching by becoming a PGA Professional at Rudding Park which is where I now train alongside completing my Professional Golf Studies degree at Birmingham University.
I believe golf is a game played for enjoyment, to be out in the fresh air with friends, for a bit of banter, exercise and competition"  We couldn't 'putt' that better ourselves Steph!…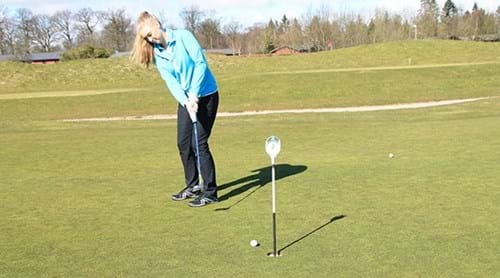 Steph Davies practising putting on the Repton Short Course.
"However,  you rarely hear people say they had a good game when they come off the course. My future aim is to work with golfers, mainly on the course, on their psychology. You don't have to get angry or upset when you are playing badly. Occasionally, everyone has a bad day on the course and it's not the end of the world!
Golf can still be seen as an old man's sport. It is important to me to get new juniors and ladies into the game and show them how much fun it can be. Golf isn't just about walking around a field hitting a little white ball! Developing hand eye coordination, balance, agility, strength and other skills throughout childhood and adolescence is important for students as these skills are transferred to golf. Having these fundamental skills will allow students to concentrate and enjoy the sport even more which is what I aim to improve."
Junior development is very important to Steph and she takes great pride and energy into organising fun summer competitions on the Repton Short Course for junior members at Rudding Park.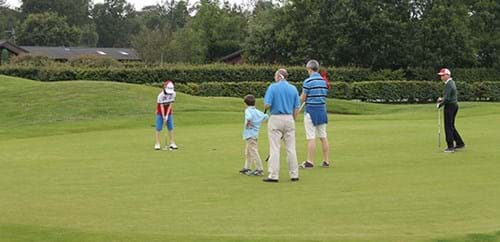 Junior members enjoying the Repton Short Course Competition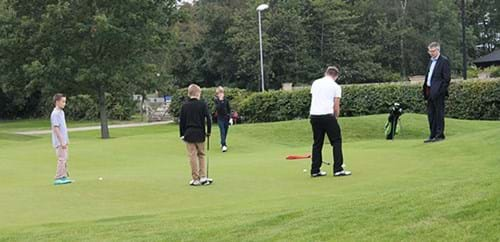 Craig Jones, Steph's mentor and Head PGA Professional here at Rudding Park Golf says "Now in full swing (excuse the pun!) Steph is doing a fantastic job at developing the junior section at Rudding Park Golf and she will continue to do so over the coming years". Craig has no doubt Steph will become a fantastic golf instructor as she has a desire to learn from all the Rudding Park PGA Professionals in state of the art facilities at Rudding Park Golf Academy.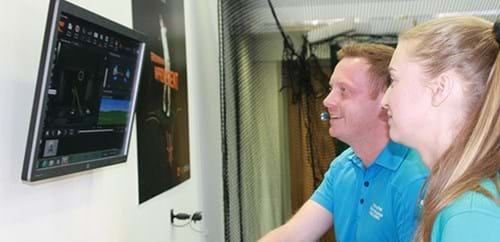 Craig Jones teaching Steph how to use the new Swing Catalyst Coaching Technology.
If Stephs' story has inspired you and you know of any juniors (up to the age of 16) who may be interested in the sport, we have introduced a new offer for juniors which includes eight 30 minute lessons for £100 with free membership to the Repton Short Course.